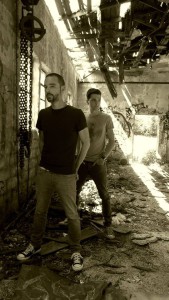 SEA OF DISORDER already received lots of attention in the Post-Metal scene two years ago with their selftitled EP "Sea Of Disorder". The duo from Salzburg (Austria) founded the band in November 2011 after they had visited a OPETH concert.
The band comments: "Our Band was founded on the way home from Munich after an Opeth concert, as we wanted to do something on our own, which comes out of our own minds and we can work with many different people who we admire, respect and who fit into the momentary sound we are creating." Said and done. Since the release of their debut EP, the guys have been working on their debut album in their own small studio (called: at home). They have won some guest musicians for "Merging Land and Sky" like Jason Watkins from MOUTH OF THE ARCHITECT, Lukas Rettenbacher and Oscar Reyes, Joshua Wing from SOL and Thomas Torsson from EF.
SEA OF DISORDER already found their way and therefore you can expect a powerfull and atmospheric journey which combines the superior beauty of Post-Rock and the smothering force of great Doom Metal. You will be addicted in seconds.
Band members
Robert Czeko –
Gitarre, Bass, FX, Artwork
Christian Hubmann – Schlagzeug, Bass, Keyboard, Gitarre
https://www.facebook.com/pages/Sea-Of-Disorder/280885945344386