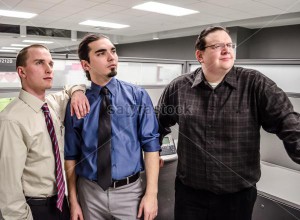 Michigan's SATYRASIS is an enigmatic heavy metal triumvirate with thrash metal roots and ever expanding progressive tendencies. Their 2nd full-length, "…Of The Dead," is an opus built upon a conceptual descent through the extremity of the human condition. Each song is a door beyond which the consumptive ear may listen in on tales of ambition and addiction, money and obsession, murder and war, naked in their tones of rage, humor and sadness. Crack the door and be pinned down in a hail of riff-fire, find yourself inexplicably submerged into a sea of atmospheric time signature bending, only to resurface into a menacing maelstrom of contrapuntal chaos. "…Of The Dead" was released on Seventh Door Records January 26th 2015 in Japan and January 27th 2015 worldwide.
Satyrasis was established in 2003 by guitarists David Peterman and Matt Trzcinski and were later joined in 2006 by Dimitri Mitropoulos on drums. Their first full-length "Creation of Failure" was released in 2008, to the acclaim of the critical press and dudes in bands. National, Regional and Intra-city tours soon followed.
Satyrasis is also well known for creating 'Ogrefest', an annual metal festival which will celebrate its 9th year in 2015.  Ogrefest became the launching pad for many then-unknown bands from the midwest, including BATTLECROSS DEADSEA, STONECUTTERS, DAGON, ACID WITCH, HIGH SPIRITS, WASTELANDER, BEAST IN THE FIELD, BOREWORM, IFING, SAURON, KONKEROR, MAGGOT TWAT, and over 70 others.
For their sophomore release, "…Of The Dead", the band wrote, recorded, and mixed at their own Limelight Studios, later the album was mastered by Zack Ohren (FALLUJAH, DECREPIT BIRTH, EXMORTUS).