SARMAT: Founded in Poland in 2018. Dedicated to extreme metal music styles as death metal and black metal.
Interview: Lukasz Kobusiński – Vocals
Hello, please, tell me some background story on SARMAT. How did the band start out? How did you decide to join forces?
Hello! Łukasz here, the vocalist of the SARMAT band. Greetings from Poland! Two guitarists, Daniel "Hacel" Szymanowicz and Krzysztof "Kopyś" Kopczeński founded the band in 2018. They are the co-founders. They were living in the same city then (Kwidzyn). I joined them in 2020, when Daniel asked me to try arranging the vocal parts to the stuff that has already been recorded.
The bands name is taken from "The Weapon of Ultimate Destruction", the Russian super-heavy intercontinental ballistic missile. Why would you think this is an appropriate title for your band?
Because it causes anxiety and fear. I haven't been a band member when guys named it, but I think this name for a band is perfect. If You know the background…
What was your inspiration for making music?
I will be 100% non original here. The music we have been listening to for our whole lives. I could type "You know, our historic legacy, the life each of us is living…" or something like that, but it would be bullshit.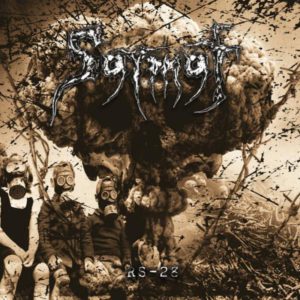 "RS-28" is the debut album of your band. Tell me a little about the concept behind the record, what inspired it? What feedback are you getting?
It's a complex question. 😉
As for a concept, as I know, the idea was to record a full-length album with death metal music mixed with some black metal influences. Guys weren't sure if the band will start a regular activity (playing shows, releasing albums) or if it will stay only as a studio project, but they were determined to record a debut full-length album. It was also a "rebirth" for Daniel, who had stopped composing and playing music for a period and then came back to doing it.
As for feedback, I am finding it very good and satisfying. We are an independent band and we have released our debut album on our own. All promotional work belongs to us. Each review, presentation on radio podcast, interview is a little success for the band. It's worth mentioning that our album is available on five continents on many distributors' webstore sites. The Lavadome Productions from Czech Republic offer a few of our CD copies as well.
What happened with since the release of "RS-28" until the present day?
Oh, dude ;-)…
A lot of things have happened since then. The SARMAT band became a regular, full line-up act, ready for playing gigs. And we do play live regularly. Since the release of a digital edition of our debut album on Bandcamp on the 19th of March 2021 we released a CD edition of it – a jewel case one, released on the 31th of May 2021, limited to 500 copies, sold out already, and a digipack edition, released on the 30th of November that year, also limited to 500 copies. On the last day of that year we released a vinyl edition of our debut album (180gr black vinyl version, lathe cut, limited to 300 copies). We have manufactured a few T-shirts designs of SARMAT.
Our music is available through streaming platforms now – it wasn't at the day of the debut album release. I have learned to manage our website on Bandcamp, which is not too hard, but some time passes from the beginning till You are able to do it fluently. I put our album on Discogs service (each physical edition) and, as I mentioned above, we are present with our physical releases in more than twenty distributors from around the globe. I don't even count reviews of our debut album that have been published… But I always remember to share each of them on our band's profile on Facebook. Oh, yes, social media… We are now present on Instagram, which I personally don't like and rarely use, but it's a fact. Some people like it😉. I should mention the lyric video to the title track from the album ("RS-28") as well, which was released the same day as the first CD edition of the album.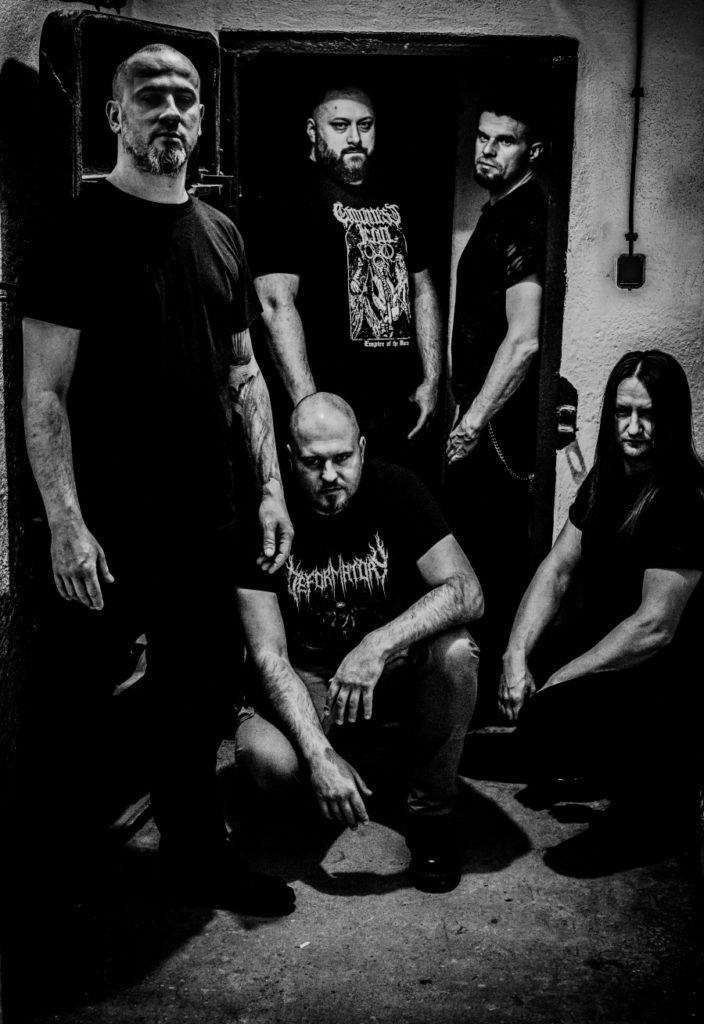 There appears to still be demand for the CD, but is it cost effective for you as an independent artist now?
Well, I am a CDs collector personally, so costs don't bother me.😉
I think that even being an independent band You should look after to release Your music on physical releases. CD is not as expensive as vinyl release and it is most common in daily use, so it should be the first choice. That's how I see it. And You don't have to wait such a long time for manufacturing CDs as You have to wait for vinyls even in an issue the smallest to order. It's always better to have Your music recorded on a release that You are able to touch, see the layout while checking the insert with Your own hands and so on… Old school, man.😉
How you'd evaluate the role online media are playing nowadays in terms of the bands' promotion? Do you read online metal zines?
This role may not be overestimated. World is changing, the media are too. The online ones are much faster and have bigger coverage than the printed ones. That's the better side of them. The worse one is there are simply too many of them and they often just copy news and information from each other. But this problem does not only concern the media. For many people there are too many metal bands on the earth and I am able to understand this way of thinking. We live in an "everything-on-demand era", if I may call it that way. The metal scene is not an exception from the statement.
I personally don't read online media very often. Webzines are very helpful in promotion of a band and I always try to inform about our live-shows through them when we are planning to play live, but it always exhausts me to contact each of them I am in touch with, so I just have to take a break after every promotional campaign😉.
What is special about the metal in Poland scene for you? Does exist some typical point for your metal culture?
I don't think so. People often say that SARMAT plays Polish kind of death/black metal and then they compare us to VADER, BEHEMOTH, HATE, LOST SOUL, even DECAPITATED (I read a comparison to them somewhere) even though these bands mentioned above are different to each other… It's probably easier to compare the music of a group to other bands from a particular country for people from abroad.
Do You think that Swedish metallers in the early 90-ies were coscious of playing something unique? I would say they weren't. The same here in Poland – I see nothing special in music of bands from Poland, but people outside may hear it.
What do you think is the most attractive and most difficult thing in a musician's life?
I am the wrong person to be asked that kind of a question. I don't see myself as a musician. I am only the scream maker in a death metal band. I have my personal professional life, a work I am doing for a living, and making music is a passion for me. It's something more than just a hobby, but it's not a professional activity nowadays and I don't think it will ever become that thing.
Don't forget, please, we are a kind of "do-it-yourself" band. Issues and problems we do have with the band's activity are far different from the ones professional bands have. For us schedule is a problematic side of band's activity – we are five guys living in four different locations, each of us has a family (a bigger, a smaller or "a getting bigger" one😉  and it's sometimes hard to find a spare time for all of us to play a gig. Releasing physical releases, manufacturing T-shirts – all of them take time and cost money. I hope the next album will be released by or in cooperation with a label record company, so many aspects connected with manufacturing physical releases could be split up.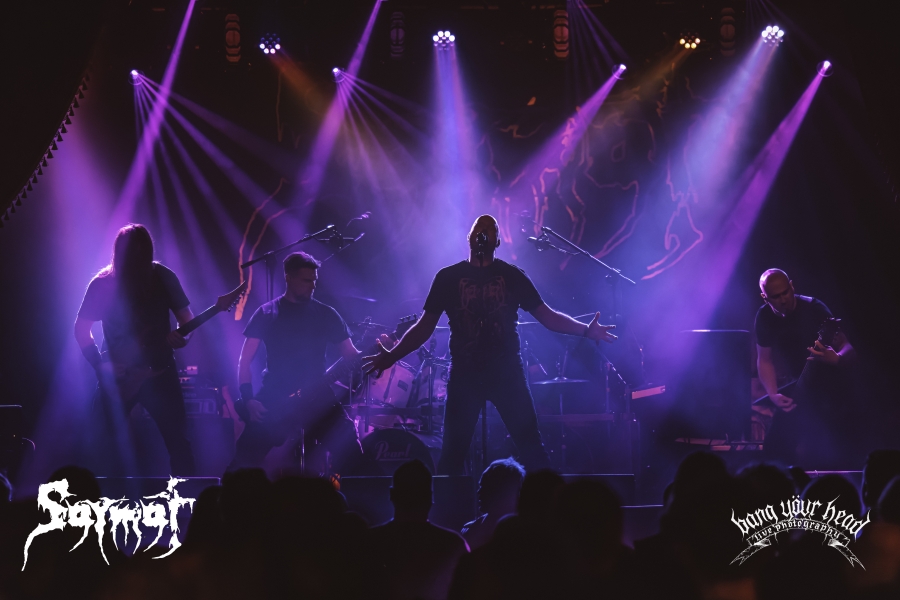 When you are not making music, what do you like to do? What are your hobbies? Sports, movies, literature…
I try to go to a swimming pool with my adult son systematically. I watch volleyball matches on TV and live in my city (I am a big fan of volleyball, the national team games and our country leagues are equally interesting to me). I also read books, but at the present time there are much fewer of them than years before… I also like traveling. I travel across Poland mostly, but I also try to visit other countries. I was in Czechia three years ago visiting Pilzno. Their underground corridors are amazing.
Poland and Czech republic are neighborhoods states. How different are both nations? What do you think?
I think these nations are very similar. What's interesting, Polish people find Czech language sounding funny and people of Czechia find Polish exactly the same way😉. I see Czech Republic as a modern, good for living country with a kind nation living there. We are establishing details for our presence at the next year's summer festival in Czechia (in the south of the country), so I hope we will have an opportunity to get to know each other better. I can't tell You yet what festival it is in particular, but when everything is set we will announce the news with pleasure.
Are there already any plans for the future, for a next record?
Yes, YES, IN DEED! At the present time recording a new album is the most important thing for our band!
We have music for the second album composed already. This month (September 2022) the drummer, Krzysztof "Desecrate" Szałkowski, will record his parts for the album at the Santa Studio in Warsaw with the help of Arkadiusz "Malta" Malczewski as a sound engineer. Then guitarist Daniel "Hacel" Szymanowicz will do his job. The plans are to record guitar parts and bass guitar parts at the same recording studio. Then I will record vocal parts, but this will be done at a recording studio in Bydgoszcz (my hometown). So, as You see, things are going on with the second recording.
And we are still actively playing live shows. Next week SARMAT will be a part of Thunder Fest vol. IX in Bytów in the north of Poland. The Czech HYPNOS band will play there too.
Thanks for taking the time to talk to us.
Thank You kindly very, very much! I personally don't really like answering questions in interviews, but this time it was, let me describe it this way, "painless"😉.
If You feel the need to get SARMAT physical releases, You may buy our CD in the Czechia territory on the Lavadome Productions webstore site (Thank You, Jan!). If You are interested in getting our LP, contact us directly, please (sarmatdeath@gmail.com). I hope we will see each other in Czechia next summer!
ALL
https://sarmat1.bandcamp.com/releases