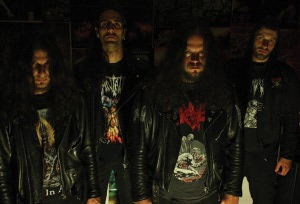 After an amazing debut album in 2012's False Enlightenment, Greek death metal tank RESURGENCY have inked a deal with FDA Rekotz for the release of the band's sophomore slab of brutality.
Formed in Athens in August 2009 by NECROVOROUS members Tolis B (bass) and George K. (guitar), along with Mechblastess (drums), John P. (vocals) and George N. (guitar), RESURGENCY set out to play death metal with an element of truth and reality. Early lineup changes saw NECROVOROUS/EMBRACE OF THORNS dummer Vagelis F. join the fold prior to recording the Dark Revival demo in July 2010.
In 2011,the band had a split CD release via Hellthrasher Productions, and returned to the label the following year for their debut full-length, False Enlightenment. Metal critics worldwide praised the album, and RESURGENCY became known as a formidable force in the underground death metal scene. High profile gigs and an undying work ethic have seen the band undergo a noticeable evolution, while never straying from its initial course and vision.The purpose of RESURGENCY is to reach the lost chaotic realms of darkness and to express the perverted mirroring of the truth forced on mankind through a chaotic dimensional filter of an anti-universe, madness,and blackened mindedness.
www.facebook.com/pages/Resurgency/150010435055711
http://resurgency.bandcamp.com