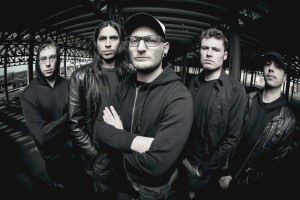 REJECT THE SICKNESS is a five-piece band from Belgium that has been shredding metal since 2010. The songs are a mixture of punching death-melodic guitar riffs, progressive characteristics and a slice of core. The music is perfectly balanced between melody and brutality. The lyrics are about confused and abused teenagers and all the anger and emotions that go hand in hand with that horror. Guy, the vocalist, works as a social worker and his job inspires him to write fictional stories about outcast youth and how they get back at society and at their molesters.
REJECT THE SICKNESS are five musicians, brought together by the love of metal. The different metal preferences and personalities in the band make them what they are today. They are more than ready for you.
POINTS OF INTEREST
In 2012 we had our first gig at Brugghe Daevert Festival. In 2013 we released our 6 track MCD, Bloodstained Eyes, recorded at clean and dirty studio, mixed and mastered at CCR. Digital released worldwide C&DR, cd release by deathwake records. The Bloodstained Eyes track was featured on the 'Face Your Underground 13' sampler by deathmetal.be and promoted on the Graspop metal festival 2013. In 2014 we shared the stage with EXODUS, DECAPITATED, BANISHER, KILL WITH HATE, GENERAL LEE and many more…
In 2014 we played at Antwerp Metal Fest.We Played the Wacken Metal Battle final. In 2015 we signed a worldwide deal with MIGHTY MUSIC. In 2015 CHAINS OF SOLITUDE is worldwide available on LP – CD – digital In 2016 we signed a development slot with THE FLAMING ARTS
ABOUT OUR NEWEST RELEASE, CHAINS OF SOLITUDE
The band chose to record Chains Of Solitude themselves, in their own studio. This way they had the luxury of trial and error and could take time for the recordings. The mixing and mastering was done by Jochem Jacobs at Split Second Sound in Holland. "We really liked his work and sound for Textures, Crimson Falls, Scarred, … The fact that we could communicate in the same language was a huge advantage. He did a great job and we would like to thank him for that."
Reject The Sickness made a music video for the track "Hopeless", taken from Chains Of Solitude. "We chose to collaborate with Malika Maria at wOrk to shoot the video. Her dark, repetitive images and extreme live visuals convinced us. Malika Maria at wOrk also frequently joins us at our live gigs. The blend of her amazing visuals and our punching death-melodic guitar riffs makes our live show a total experience."
ABOUT SLACK MUSCLES HEAL(demo) & BLOODSTAINED EYES(mini CD)
Reject The Sickness released its first demo in 2010, Slack Muscles Heal, and a mini-CD called Bloodstained Eyes in 2013. The mini-CD and demo where united on one CD and re-released worldwide through Headshot Records. Reviews for Bloodstained Eyes were very promising and fueled the bands eagerness to work even harder and more intensely to get the best possible result.