Interview: Thomas – Vocals
Hello and welcome! My first question was in which bands apart from REGARDE LES HOMMES TOMBER have they played before…
We give importance in keeping some secrets, thus we don't want to reveal it, sorry. We want people to consider REGARDE LES HOMMES TOMBER as an entity, not as an addition of individualities. Even if playing in this band is not so different than being in our side-projects, actually… despite of the fact that we give more shows ! Nantes (the town we live in) has ever had an active scene… that's a chance to have a thriving underground activity in our city, a kind of pride. We all come from this subterranean scene.
You've been working together since 2011. How has the band evolved during that time?
The ascension has been very fast since the beginning… a lot of shows, great ones (Hellfest and Motocultor in 2013, Roadburn in 2014). The biggest change was the departure of Ulrich (vocals) last year, followed by my arrival. I really felt honored when the guys called me, now I consider myself as an integral part of the crew. I feel proud of the work fulfilled together in one year, that's a great satisfaction.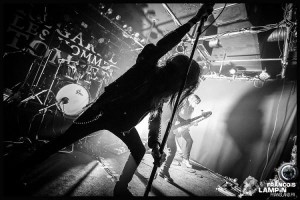 And now new album "Exile". Is there a theme, or a philosophy that underpins the album?  Could you tell us something about each track on the CD? Your music is full of dark secrets?
Speaking individually of each song would take hours, I will rather introduce the general concept of the band. It focuses on a main point : The fall of the men, who are rejected and tortured by God despite of their devotion and their love for the divine. This new album pictures both this fall and the birth of a consciousness that leads men to reject the Lord and all the principles of adoration during the exile… to finally become their own gods and "sit on this throne". All the lyrics evoke biblical mythology (Abel, Caïn, Lilith, the city of Sodom, etc…). The artwork of "Exile" is a good example : a city destroyed by the flames, a crowd condemned to exile. The song "…To Take Us" is about it : the cry of Sodom and the divine punishment inflicted on the sinful men. That myth is fascinating, although it's not the only biblical one we deal with in "Exile", that was obvious to paint it for the cover art… simply because this theme sum up our main concept, evoking something visually strong and darkly desperate.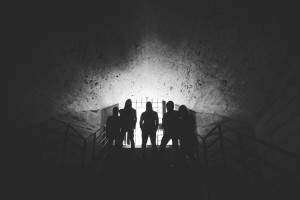 Are you atheist? What do you think about blasphemy? Is it your life's style, philosophy or only arts confession?
We consider that the freedom of speech is a primordial right, but we also think that the respect of the other's thoughts (opinion, belief, …) is also fundamental. It's a fragile scale, that must be preserved. We're not involved in blasphemy or stuffs like that, you'll never find any ideological message in REGARDE LES HOMMES TOMBER. We only deal with biblical myths on an artistic way. Those symbols are intense and highlight the concepts we want to show in our music, that's why we use them. We're not religious or heretics, just musicians.
I think that your album is a excellent soundtrack of black metal for nonexistent movie. Do you agree with me? Do you like movies soundtracks?
What you notice is interesting, because the main idea with "Exile" was to give birth to something heavy, panoramic, both oppressive and epic, so… being compared to a soundtrack is very flattering, thank you. We wanted this disc to evoke some kind of fresco, to picture perfectly the themes we deal with. In that way, we worked hard to mix the ideas of each member during the writing sessions… to give birth to something visual, as you said !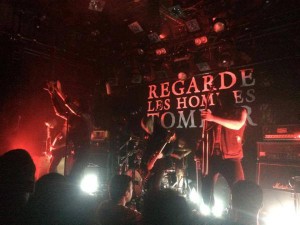 What kind of movies do you prefer?
Good movies ! We don't have a favorite kind of. Our last "coup de coeur" was the film "Whiplash", a true master-piece dealing with the obsession of perfection in music. We love this film.
What are your expectations for the album?
Although we hope that people will enjoy this disc, we don't have "plans". We try to walk on our own path, keeping our identity without thinking about the trends… We just wanna play live, actually. The stage is very important for us, the most important is to share something. We play music for ourselves, not to tick some boxes.
How is Les Acteurs de l'Ombre Productions working for you?
Our label is made of a small crew that work with passion, and this is the most important for us : things are made for the love of art. Les Acteurs De L'Ombre is not an industry, but a human-sized structure. These people put an incredible energy in developing bands like us by an intense work of promotion/distribution. We owe them a lot.

Your attitude to mainstream? Is it good when the masses listen to black metal? What do you think about orthodox metal fans?
We don't really care about the classic struggle between mainstream and underground, to be perfectly honest… We play and listen the music we love, and as long as we can do this, there will be no problem. We'll never blame or congratulate people to like or hate a type of art, that would be pathetic. I will sum up my thought in these words : Everyone get the right to listen the music he likes, that's all. There's not a supreme music above all others, except the one you enjoy. And concerning the black metal available for masses, this pointless debate exists for years… To reassure orthodox metal fans, obviously, Shakira will never cover VENOM, don't panic.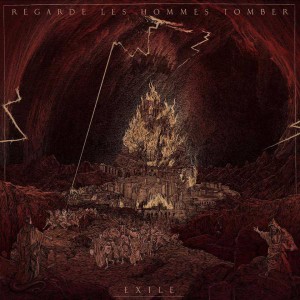 What do you prefer: to record an album in the studio or to play live shows?
Both! Although playing live is a source of great pleasure, we also enjoy to take our time between four walls to build a song. Concerning "Exile", the recording process was very fluid and natural, a real pleasure. This disc has been recorded, produced and mastered by Francis Caste (Studio Sainte Marthe, Paris), and he simply did a fucking great job. The texture is denser than our first release, more extreme, with a massive sound… exactly what we expected.
How do you explain the quantity and quality of bands emerging in the French post-black metal scene in the past years?
We can't really explain it, but a thing is sure : the fact that our country is full of good similar-style bands is great. we admire the work of CÉLESTE, DEATHSPELL OMEGA, THE GREAT OLD ONES, etc … each one gets something special and unique. They are great artists, not rivals.
Europe and refugees – theme of the nowaday. What do you think about this problem?
We don't deal with politic, even if we are truly afflicted by the distress of this women, men, kids… in their situation, every human being would act like them, you can't blame someone who flee a danger he can't obviously face. Actually we recently realized that the biblical myths we deal with in "Exile" don't describe some lost and ancient times, but the world we live in now… These ancestral stories must be red like this, the analogy gives them all their strength, regarding to the massive migrations of deprived people who run away from desolated places to safer ones. Myths have been written in the past to describe the reality of today and predict the future: These stories are living ones.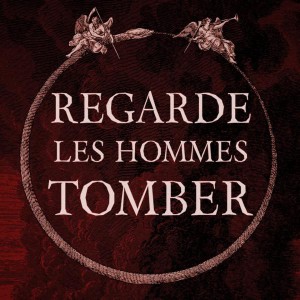 Back to the music! It's better! Who are the top 5 French metal bands of all time?
Here's my personnal "french top 5" :
1- NEHËMAH (RIP)
2- ANOREXIA NERVOSA (RIP)
3- SVART CROWN
4- THE GREAT OLD ONES
5- PESTE NOIRE
What kind of stuff did you grow up listening to, and what kind new music do you listen to these days?
REGARDE LES HOMMES TOMBER is composed of friends with different tastes, which is, I think, a true force. Some of us come from pure Black Metal, others are great fans of Sludge and Post Metal… Actually we don't consider that a musician shall listen only one genre, that's why our music is a mixture of various influences. We trust the power of this diversity to build our sound. We don't have "direct" influences, but listening us can evoke bands like DRUDKH, AMENRA, WOLVES IN THE THRONE ROOM, etc… once again, we build our music without thinking of a model, we just look for the best way to deal with our concepts. Recently we discovered awesome bands like DEAD CONGREGATION, DER WEG EINER FREIHEIT… the scene of today is full of promises.
All the best! Anything you would like to add before we end this interview?
Thanks. We are truly excited to expose this new material on stage after all these months of composition/rehearsals/recording. We eagerly await to hit the road, play and meet people. We would be delighted to visit Czech Republic ! Thank you for this interview, à très bientôt.
ALL
https://www.facebook.com/rlhtband/?fref=ts