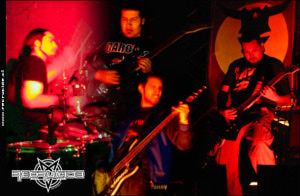 SVPREMACY is the name of the third album of Chilean Death Metal band RECRUCIDE and like their previous work "Blood Divine", this album is edited by AUSTRALIS RECORDS. "Svpremacy" is the most ambitious work in Recrucide's career, made with full professionalism and quality in DVD/A5 format. This album was recorded in SADE Studios by Juan Pablo Donoso (Sadism, Pentagram) achieving a high quality of sound and mastering process. Also it sought a new design for the art that reflected all the songs included in the CD, in the words of Rodrigo (vocal and bass player) "this is how we contact the illustrator and Comic vignettes Chincol, who managed very clearly our ideas and intentions of each song"
Recrucide is: Cristian Medina (drums), Fernando Varas (Guitar), Hernan Mu?oz (Lead guitar) and Rodrigo Zepeda (bass & vocals).
"Svpremacy" has 12 tracks plus a bonus track on digipack version. It includes the participation in the of Laura Vargas (Sacramento), Claudio "Conde" Carrasco (Poema Arcanvs) and Andres Marchant (Kingdom of Hate) on vocals. The digipack version of the album is available now and at the end of this years on vinyl 12″.
The list of track is the following:
God didn't…
Hipócrita
Ritual
Satanism
Uncontrolled
Svpremacy
Ash
Vultures on the prowl
Candelabrvms II
Obliteration
Be one ov us
Love
Pain Becomes