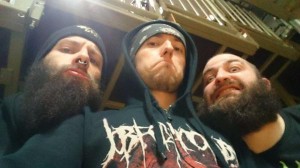 Death Metal addicts, Beer drinkers, Ignorance worshippers… that's RAGESTORM.
Born in summer 2004 as a joke, the band went through major line up changes and shredded the first stage in 2005.
In the early 2006 they recorded the first demo called "Storm Inside" and did a mini-tour around Northern Italy supported by a quickly growing following and media hype.
Following the early demo, a new recording titled "Someone Hears?" got released and entered straight the charts as "Demo of the month" on Metal Hammer Italy, Metalitalia.com and Metal Storm Magazine (USA), also getting air time on Metal Head Radio
By the 2008, RAGESTORM got again into the Demo of the month charts on Metal Hammer Italy and Metalitalia.com with the production titled 'The Passion', supporting the release with intense live activity throughout 2009 and 2010, playing shows in Swiss, Netherlands (supporting Rotting Christ @ 2009 edition of Eggfest) as well as Rome, Turin, Brescia and Aosta, also supporting big names like Linea 77, Extrema and Subsonica.
In May 2010 , RAGESTORM released their fourth EP called "The Meatgrinder Manifesto" which is the most extreme and complete production thy ever recorded, soon to be followed by The Thin Line Between Hope and Ruin (Sliptrick Records 2016)
https://www.facebook.com/ragestormofficial
Line-up:
Marke – vocals
Kolla – bass guitar
Rufio – rhythm guitar
Tele – lead guitar
Bonny – drums