Take Dependent Records, who with releases like "Empires" and "United States Of Mind", established themselves as the the premier purveyors of Futurepop. Take Norway, home of innovative and talented bands like ZEROMANCER and APOPTYGMA BERZERK. Put the two together, and what do you get? A promising new act from the far north by the name of PRIDE AND FALL!
Interview: Sigve Monsen – Vocal; Per Waagen – Synths
Hello! Welcome into the pages of RumZine! I´am honored, really! When you started your band, what music did you listen to, and what inspired you to start performing music yourself? Did you expect that you would be so successful?
Sigve: Thank you for inviting us, appreciate that. Well, we have always had a diverse taste in music. Never stuck to one style or genre. So getting inspiration from lots of bands. Different genres.
Per: Yes we've always listened to a wide range of styles, everything from punk and indie to old school death metal of the 90's, and from ambient to electronica. We got a growing interest in music and instruments back in late childrens school. At the time, I myself was really into A-HA and DURAN DURAN, DEPECHE MODE and artists like that, and after some time moving slightly over to DEAD KENNEDYS, SEX PISTOLS and the like, and from that over to a bit heavier metalstuff, but still, FRONT 242 and FRONTLINE ASSEMBLY and NINE INCH NAILS are typical bands that I became aware of in the early 90's. Pretty far away from PRIDE AND FALL though. And also I was playing an instrument in the school band, hehe, got musical influences already there.
Sigve: Our success is not something I've been concerned about. Having said that it's really nice to reach so many people all over the world, as well as hitting some people in their hearts and souls. That has been both interesting and encouraging.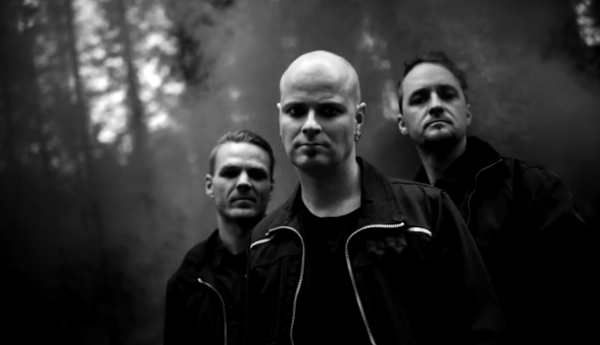 How would you compare the acceptance of your music in Norway and other countries? How difficult was start of your way? Were there any setbacks or challenges that you faced?
Sigve: When we started PRIDE AND FALL we had one goal. That was to play live shows in other countries than Norway. 🙂 We plainly just wanted to get out in the world. See different cultures and meet lots of people.
Per: Yes, we wanted to travel outside Norway and perform at the festivals like Wave Gothic Treffen and the well known venues like Slimelight in London. The scene in Norway is small, great fans and really nice people. I'm not sure but there might still be a few monthly events in a few cities, maybe more gothic-style club events with some elements of EBM and/or industrial, but not well established and huge as in Germany, Poland, UK. So back in the days we decided to search for a record company and management that could help us around and out there. It didn't take long. Soon we found out that Dependent Records was the best label around, without doubt. So that process was actually pretty easy for us. No frustration, only positive replies and comments on the demo we sent around, and luckily also from Dependent Records. We were stoked, and the deal was signed.
Fans always tend to idealize the independent scene. Do you agree with this? Are you satisfied with position of PRIDE AND FALL in Norway? Do you consider yourself an underground band?
Sigve: When it comes to Norway, we don't really have a huge fan base base here, and as said earlier, there are probably some club event nights for industrial EBM, dark electronica still, but not in our part of the country. Probably Oslo and Bergen. But, we are not active in Norway at the moment. We have been sort of out of touch with the scene for a while. Not only for 2020 and the covid-situation, but because our private lives have been quite busy and there has unfortunately been time for playing around with new ideas and music in general. This is of course a result of us not being 100% musicians… this is not our daytime job.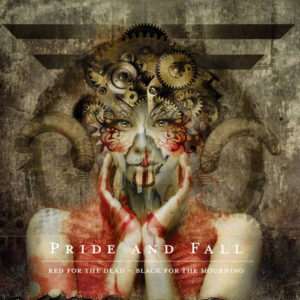 How do you see the scene after being around for 20 years?
Sigve: Honestly it feels like this scene is in a standstill. In all these years there have been a few groundbreaking bands for sure, but normally bands that work in this scene don't tend to seek new inspiration. Not saying that we are special… It's the same for the audience. Not that many new recruits
Melancholy is prominently present on the all records. Is it important symbol of PRIDE AND FALL?
Sigve: Melancholy is the essence of PRIDE AND FALL. We are three thinking men that dwell in our own thoughts. We make that type of music that most listeners probably like to listen to in the dark, by themselves.
Per: And melody has always been important to us, and talking about melancholy some may have noticed that we base much of our music on minor keys, you know, like D sharp minor chords and such. There's more touch of sadness in the melodies based on those chords…that's for sure… and that's important to us, it's always been like that.
What evolution as a musician and a band do you see across your five studio albums?
Sigve: There have been so many changes and developments throughout the years, sometimes using guitars and electronic drums, blending it with both hardware and software-synths and whatever. It has been fun though. Svein Joar has a recording studio in his basement so we have spent a lot of time there, so we have been jamming a lot there, and practicing for gigs and such. The recent years we have been writing and composing on our own, and then gathered. A. While more production and mixing have been going on at Per´s small basement studio. I guess the biggest evolution, like production-wise, must be in our sound over the years is that we have aimed for a more cleaner sound. And yeah, we actually used some modular synths in a more creative process in the studio, at least for the last album.. Svein Joar has really been diving into that world of modular synths.
Your last album, "Red For the Dead, Black For the Mourning", was released almost five years ago. How have been the reactions so far?
Sigve: It's been OK, I think. My impression is that that album got similar reactions like we had from "Nephesh". Back when releasing "Nephesh" we got fan mails on how a deep impression the music made on them. I remember one guy telling us that our music was played at a funeral. That's beautiful. And for our "Red For The Dead" album we often get emails and messages about how much the music means to people. They say it connects with them… I think in our scene, we are more focused on the melody than the actual club beats, hence people connect more feelings to the overall experience listening to it.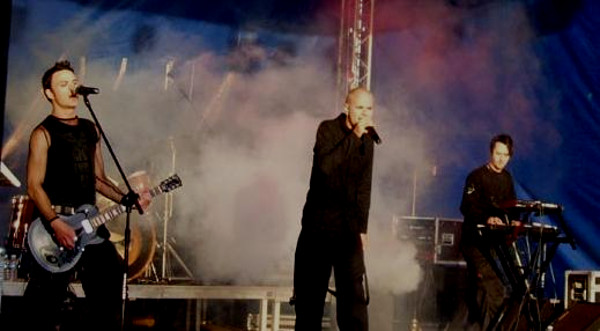 I think you last album sounds very spontaneous, sound is very massive. Was that done on purpose of did the sound come naturally?
Per: "Red for the Dead's" sound is a combination of our own development and that we cooperated with a few very skilled musicians for that album. Krischan from ROTERSAND and Norwegian producer and mixer Christer-Andre Cederberg. All our previous albums have been mixed and produced by PRIDE AND FALL exclusively, but we wanted to focus our attention to writing and composing music, and this is actually the first time we have used external resources in the production of an album. These guys are really skilled, and they both assisted on the production. We also spent more time on vocals on the "Red for the Dead", like for example we played around with distorted vocals. The new album continues from where the band left when the last album "Of Lust and Desire" was finished, but we always try to bring new inspiration stuff into the process and we are really happy with the results.
Will you release new materials soon? How would you characterize your news tracks for other album?
Per: I can only say that we are motivated and hope to get together soon for gathering our ideas, putting them together and to see what develops from there. The situation is a bit tricky at the moment, you know, three musicians from three different families, Covid-situation and all that crap…
I´am sorry, but Covid – 19 is actual big theme… Are you generating new ideas from your own homes? What are your restrictions? How's the situation in Norway? Is the State helping artists in any way?
Sigve: This is true. As said earlier, for the latest albums we've played around on our own, and then we've gathered and put it all together and had fun, so yes, for now we are playing around on our own, at home. The covid-situation is a mess and people are suffering as a result of businesses shut down, not because of actual illness but due to effects of lockdown. Having that said we are pretty glad and relieved that covid19 weren't as dangerous as we were thinking one year ago.
Per: Regarding support and help from the state there have been some controversy around that here in Norway. Situation was, at least in the middle of 2020, that the more well-established artist got easy approval for free money while the less-established ones didn't. What happened there and how it is now I don't know, I haven't had the huge interest in following that debate. However, I do know a singer/songwriter that did very well during a digital "corona-style" live-stream show, where the audience sent money during the show. He earned more on that show than any show before. That's interesting.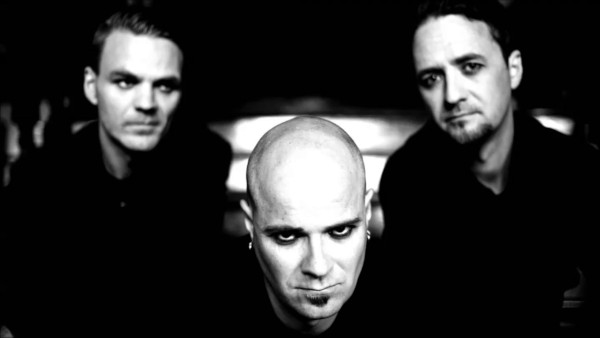 Do you listen to new music lately? Has any of that provided any inspiration for the future direction of PRIDE AND FALL? What's currently rotating in your CD player?
Per: Currently I am listening to Nick Cave's latest masterpieces, "Ghosteen" and "Carnage". Both just fantastic, genius and heartbreaking at the same time, I mean, what that man has gone through with losing his son and how he expresses his feelings through his lyrics and music. Simply fantastic stuff. I love it.
Please, can you tell me something about remix of song "Fade" by THEATRE OF TRAGEDY? What dou think about this band? Do you prefer only electro records ("Assembly" for example)?
Sigve: No not at all. Mostly I would say we listen to "acoustic" music. I get a bit tired of electro music after a few hours. Never experience that with recorded instruments. I've been a close friend with Hein Frode (drums) for years so to have an objective opinion about THEATRE OF TRAGEDY might be a bit hard… One thing I can say is that they were pioneers. And that is something I really respect them for. Even though the music is not quite my cup of tea, there are elements that i really like. And "Fade" is one of those songs. So the "Fade" remix was made to hit the dancefloor after a suggestion from Hein Frode. And in my opinion Per did a fantastic job achieving just that.
How do you see the music scene after Covid-19? What other plans do you have for 2021?
Sigve: We currently do not have any plans yet, apart from writing and playing around with some ideas on our own. We're just trying to live a life as normal as possible. I think and hope we will come together again soon to see what's up and to do something really useful. And we also have a nice communication with the guys at Dependent Records still, so we'll see what comes up. We do have some good ideas that we're playing around with.
Thanks for your answers! Is there anything you want to say to our readers… and have you ever been in Czech Republic? 🙂
Sigve: We have never been to the Czech Republic, but would LOVE TO VISIT. That would be awesome!
ALL
https://prideandfall.bandcamp.com/