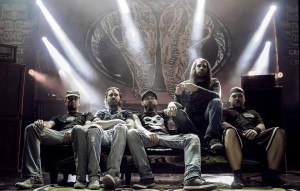 Founded in Athens,Greece in 2004, POTERGEIST started out as a southern metal band.After lots of gigs the band records "Southwards" album in 2006… In 2007 " Southwards" is released with Burning star records worldwide. Their crossover of dark and groovy southern blues metal is regarded as a novelty by many.
2008 brings the composition of new tracks which are put to the test through live performances as POTERGEIST hit the road with brother band Lucky Funeral on a mini tour.Later the same year POTERGEIST enter the studio once again and records self titled ep.Showing a more swampy and dark side of the band.
In December 2010 POTERGEIST enter the studio recording their 2nd full length masterpiece"Muddy Mermaids" . The same year director Costas Zapas inspired by the music of Potergeist works with Alex S. and Asimakis Repas on his new movie "The rebellion of red maria" creating a brutal metal soundrack twisted enough to mach the hardcore and often twisted world of Zapa.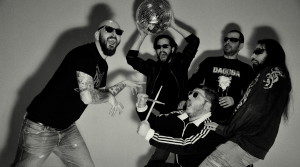 In 2012 "Muddy Mermaids" is released through Distroball productions and through Warner Music in digital form. With "Muddy Mermaids" the band goes even more dark and more bluesy .Not being able to label their own music any more the term Swamp Metal is used to describe Potergeists gothic southern bluesy sound. In June 2012 Potergeist opened for Lynyrd Skynyrd showing that hard work does pay.
In 2013 POTERGEIST start recording their 3rd album and work with David Castillo (KATATONIA, OPETH, DRACONIAN, AMON AMARTH, INME, NASUM) on the mix, re-amp and production. Angry Blue (GUNS AND ROSES, DANZING, FAITH NO MORE, SLAYER, MELVINS) designs the cover this time and "Swampires" comes to life on 2014 via Distroball productions and B-otherside records.On December 2014 and after performing at the Red Bull unplugged sessions Potergeist strikes an endorsement deal with Red Bull.
Through the years Potergeist have shared the stage with the likes of LYNYRD SKYNYRD, MONSTER MAGNET, PRO-PAIN, THE HAUNTED, THE SHRINE, KYLESA,PARADISE LOST… to mention a few and have become known for the energy they deliver when on stage. What's next for POTERGEIST, the future will tell. Until then enjoy the pot… Release date you set it like we said.The sooner the better.
Also we are on for the digital distribution deal with you so if you need something on my part for that let me know.
Line up:
Alex S Wamp vox
Nick XP guitar
Stratal guitar
Tolis Toleas drums
Pluto bass.
https://www.facebook.com/potergeist