Poland's stalwart ASGAARD, having successfully returned to the map of gothic rock / metal with their 7th full-length "What if…" (released last year on Wormholedeath Records / Szataniec; digital / physical respectively), releases an EP titled "W sercu nieświata" that features acoustic versions of the three tracks from the aforementioned album. The band has once again teamed up with a renowned and award-winning graphic designer Bartłomiej Trzos who created the EP's cover art. In addition, each of the songs will be accompanied by photos by Bernard Wcisło and music videos produced by brrvids.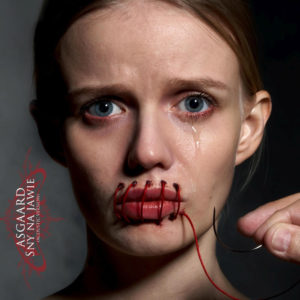 "Acoustic songs were born out of need to create a new form, without distortion, heavy guitars or massive sounding drums, in order to unearth qualities hidden in this music, at least on a surface level. Recording these songs in a non-metal manner was an entirely new challenge for us. We wanted to prove to ourselves – as well as to our fans – that we can successfully tackle on playing in a different style, that we are open and versatile musicians and not afraid to try new things. And I hope we achieved it. During the recording process we used a number of interesting locations, like chamber music hall in Music School Complex No. 1 in Warsaw. Moreover, we had plenty of unique instruments at our disposal. One of them was an upright piano, made in 1895, coming from phenomenal music factory called Małecki, located in Warsaw, which unfortunately was destroyed during times of war and occupation. This particular piano has a distinct, deep and noble sound. Slight differences in pitch or creaking while pushing the 'sustain' pedal shows that such instrument is truly one of a kind. To capture a warm tone for new arrangements, we recorded all parts with the use of ribbon microphones and utilized brushes for snare drum for the very first time in our career. Those three compositions are not for everyone but we believe it is a fresh and subtle take on our music, which also provides a broader perspective on what we do. Asgaard was never a band that sticks to a particular formula, which is our trademark at this point I guess. After all, isn't it the embodiment of artistic freedom?" – says Flumen, the band's keyboardist.
The "W sercu nieświata" EP will be released digitally on June 30, 2023 via Wormholedeath Records / The Orchard / Sony Music Ent.