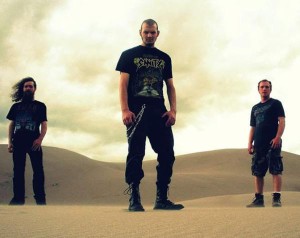 PILE OF PRIESTS is a traditional death metal from Denver, Colorado. Formed in 2009, they quickly rose to local prominence with their demo release "Burn". Soon after, Pile of Priests was playing out of state, performing all over the west coast. Two years following the release of their demo, the EP Unholy Death was released and now, in 2015, they are ready to release their first full length album, "Void to Enlightenment".
PILE OF PRIESTS has had the distinct pleasure of opening up for bands such as IMMOLATION, ABIGAIL WILLIAMS, ARTILLERY, and VADER. Stylistically, PILE OF PRIESTS employs a vintage death metal style reminiscent of the early 1990s Florida bands but also incorporates technical and progressive passages that lend length to their songs. This power trio brings their brutality in full force, proving they have fully earned a place in metal to stay.
Everything about this band screams 1990s. This could have easily been pulled from Florida and played alongside DEATH, MORBID ANGEL, SIX FEET UNDER, and OBITUARY. The technical prowess is amazing on Void to Enlightenment; to the point that the drummer even provides a few wicked guitar solos in the album because of how hard it plays. There is no gimmickry here, the music is just straight unadulterated death metal without the use of keyboards to add atmosphere. Abrasive, unrelenting, and in your face.
Band:
Evan Salvador – Rhythm/Lead Guitars and Vocals
Patrick Leyn – Bass guitar and back up vocals
Evan Knight – Drums, backing vocals