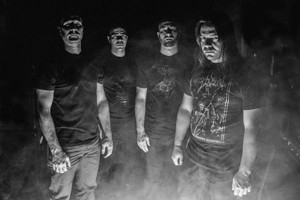 Montreal's Phobocosm has returned from the abyss with another offering of oppressive and ambient death metal. The band's newest album, Bringer of Drought, is an exploration into uncharted darkness. A deeper and more intense experience than its 2014 predecessor, Deprived, Bringer of Drought features 35 minutes of soul-reaping, doom-infused death.
This four track beast was mixed and mastered by Colin Marston.
Bringer of Drought will be unleashed May 13 on Dark Descent Records.
Phobocosm is a death metal band from Montreal that came to life in January 2008 shortly after S.D. (guitars) and J.S.G (drums) left their previous band. A few weeks later, E.B. joined the band as vocalist and bassist. R.M. later joined the band as second guitarist.
The founding members agreed on one thing when they formed the band: the band's sound was going to be a mix between different styles of dark and extreme music, but its roots would have to be firmly planted in the "dark death metal" style with an old-school approach yet incorporating a lot of elements from other dark styles of music such as doom metal, black metal and ambient. Phobocosm's music is comprised of a mix of slow, mid-paced and fast parts with a strong focus on writing the darkest riffs possible in the realm of death metal. Each band member brings his own influences into the mix to make the band's music as dark, atypical and original as possible.
Phobocosm's debut album Deprived was released by Dark Descent Records in September 2014. The album was mixed and mastered by Colin Marston (Gorguts, Dysrhythmia, Krallice). The band will release its second LP, Bringer Of Drought, in May 2016.