Interview: Bellovesos – All instruments

You have recently released a new album called 'V.I.T.R.I.O.L'. What was your main objective when you started PÉNITENCE ONIRIQUE? What your initial intentions were when you began working on it?
Thanks for the interest. PÉNITENCE ONIRIQUE is a project born from lots of questioning about life and the being. There is a lot of differents ways to deal with this kind of subject, we chose music to do so : it is something we had done but never coming for a personal perspective, always by following someone else orientation. That is why, in 2015, I tirelessly started to compose on my own with a precise idea of what the project will looks like. It is by sharing my ideas with Diviciacos, an old friend of mine, that he asked me to add his singing : Pénitence Onirique was born.
Do you want to convey a certain message with your music? What are your main driving factors in making music?
PÉNITENCE ONIRIQUE represents the receptacle of our deepest pain, we wanted to share a positive message with the alchimy which frees the being from its pains by sounding out its soul and turning it into a creative fire. The driving force of PÉNITENCE ONIRIQUE is the emotion and inmaginary, the sound came from that push: I am looking for the sound which will represent the most its universe.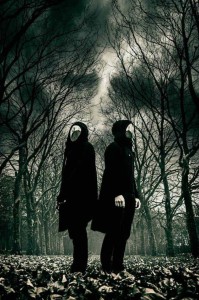 PÉNITENCE ONIRIQUE is a new name on metal underground map. Did you come up against any issues getting your music out to the masses, if so what were the issues and how did you overcome them?
It is a quite new project, and because of that we had a sudden rise mostly due to our label Les Acteurs de l'Ombre which allowed us to be discovered in a wider range of country.
If you were to collaborate with an artist from the black metal genre from the past or the present who would it be? Is there anyone else you'd like to work with that you haven't yet?
It is not something we are thinking about right now, for now we are working on our line up in order to make shows. On the other hand, collaborate with artists like DALEK or PORTISHEAD will make me very happy, I must be dreaming hahaha…
Do you have any opinions on the current post-blackmetal or post-metal scenes, as they stand? Do any of the bands from these genres appeal to you and what you're doing?
I think it is a very novative scene with a great smartness in terms of universe and culture, but to answer to the second question : no, no band came to us for a collaboration.
Where Are the sources of your today's inspiration hidden? As for your own taste, do you listen to other genres too?
PÉNITENCE ONIRIQUE is inspired by life, the new wave scene, as the black metal one, the drone, classic, death or any other scene, but also by artists as William Blake, Jean Delville, Ferdinand Hodler, Leonard De Vinci , Gustave Doré or Botticelli …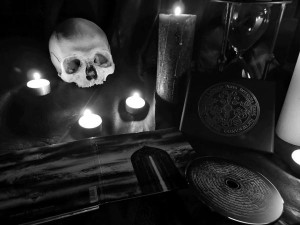 How do you feel about the music scene in France and which bands should we in the Czech republic be watching out for?
We love the French Black Metal scene which is has a very rich universe and which interest its neighbouring country. One of the band I had the chance to see and marked me by their live session is THE GREAT OLD ONES, it was an intense experience and a total immersion in their set, from the beginning 'till the end. If I had to give you band name to follow, it will be The great old one or ALCEST, DÉLUGE, BLUT AUS NORD, REGARDE LES HOMMES TOMBER.
Any chance of coming to Czech republic?
Well, I really hope so, it will be a great pleasure to play in you country which fascinates me since many years. We are closed to get a serious line up so who knows, maybe one day…
How the opinions of musical journalists are important for you?
I think it's a useful work in terms of creating a much closer relation between the audience and the musicians, but also to promote new bands… That being said, I am not a huge fan of scoring systems, it is, in my opinion, very abstract and depends on the tastes of the writer.
Thank you! Do you have any final words for the readers?
We could never have imagined such a welcome in the scene one year ago. I can only thanks everyone for their awakening, their support and sympathy. I will always keep in mind the reasons who led to this project, the same reasons that keep me very humble and searching for the golden soul. Thank you RumZine, best regards, Bellovesos.
https://ladlo.bandcamp.com/album/v-i-t-r-i-o-l
https://soundcloud.com/ladloprods/sets/penitence-onirique-vitriol
https://www.facebook.com/penitenceonirique
https://www.facebook.com/LADLOproductions/
ALL