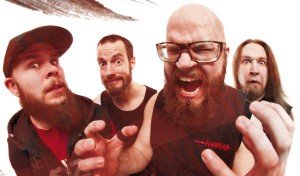 PEEKABOO PRIMATE is an alternative metal act from Tampere, Finland. PEEKABOO PRIMATE was originally called Airhead and the band was formed by Lauri (vocals) and Riku (drums) back in 2004. Founding members were accompanied by Hannu Kumpula and Tuomas Kumpula who stayed with the group until the release of the debut Peek-a-boo Primates (2011) distributed by Playground Music Finland. After the release a name change took place.
The name PEEKABOO PRIMATE combines a joker like wackyness with more serious interpretation. This schizophrenia describes perfectly the contradiction we all face in our everyday lives.
Misanthropical was recorded at Lauri's (vocals) studio Tuulensuu except for the drums. Production and the sound sets Peekaboo Primate apart from the everyday generic metal sound with more organic touch but still with programming and modern elements. The album was mixed by Samu Oittinen at Fantom Studio and mastered by Svante Forsbäck at Chartmakers.
After the debut the style of PEEKABOO PRIMATE has become even more distinctive and recognizable. Branding the music as dystopia metal this four piece is determined to make a stand with a vague smile delivering a combination of bouncy rhythms, unique sound and fresh production, provocative lyrics topped with melodies bound to stuck inside your head. Not to mention the live energy. It's a constant stir of elements being mashed up when every now and then a spark will lit up a scene that is eccentric and truly unique.
The core message of Misanthropical is to display this human made world as ugly, brutal and harsh but sometimes also beautiful as it is – everybody wants to be part of the greatest party of our time before our species go extinct solely by our own hand. This spectrum of emotion is spread across the album.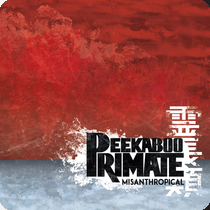 Line-Up:
Lauri Lepokorpi (vocals)
Matti Auerkallio (guitar)
Juhani Rytkönen (bass)
Riku Airisto (drums)
http://www.peekabooprimate.com/
Discography:
2016 – Misanthropical (Inverse Records)
2016 – Heroine feat. Noora Louhimo -single (Inverse Records)
2016 – Spray Tan -single (Inverse Records)
2014 – Peekaboo Primate -single (Playground Music)
2011 – Peek-A-Boo Primates -album (Playground Music)
2011 – River Cop -single (Playground Music)
2009 – Tomorrow Is Today -single (Playground Music)
2006 – Universal -Ep