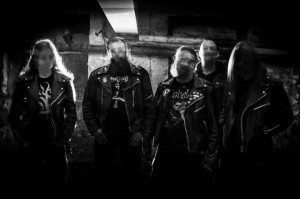 Canada's Medusa Crush Recordings are proud to announce that they have now released Outre's Ghost Chants on cassette. Limited to only 100 copies, the first 50 copies will come with an exclusive poster created by Robert von Ritter. These limited edition cassettes are expected to sell out quickly.
Order a copy from Medusa Crush Recordings directly at this location: https://medusacrushrecordings.bandcamp.com/album/ghost-chants
About Ghost Chants:
Ghost Chants is a twisted beast of an album. The first full-length from Poland's Outre, its thirty-five-minute duration is a mindtrip of the highest order and a surefire highlight in Poland's black metal of this decade so far.
The seven tracks each possess individual character, and yet amount to more than the sum of their parts: Vengeance is a blistering romp enhanced by a similar triumphant stride to that of their compatriots in Behemoth, while Shadow touches on the crazed mania of DEATHSPELL OMEGA, and Equilibrium stirs in a writhing primordial ooze of riffs from Damian Igielski. The work of drummer Maciej Pelczar is simply stellar, whether in relentless double-bass or rumbling grooves of Lament.
Fans may have been saddened by the loss of vocalist Andrzej Nowak, but Stawrogin, who was asked to lay down the vocal parts on Ghost Chants, delivers an incredibly varied performance. From the chanting that marks the Departure to his strangled rasps and icy sneers, or a roar not unlike that of ANAAL NATHRAKH's Dave Hunt when he intones. Our heavenly father, who failed me! He establishes himself as one of its kind.
The production on Ghost Chants is a perfect balance of crisp and sinister, a masterful turn from M. of the well-acclaimed MGLA. This is an essential release for any fan of boundary-stretching black metal, Polish or otherwise.
OUTRE are:
Damian Igielski – guitars
Mateusz Jamróz – guitars
Marcin Radecki – bass
Maciej Pelczar – drums
Vocals arranged and performed by Stawrogin
Discography:
Tranquility EP – 2013
Thaw/Outre split – 2013
Ghost Chants – 2015