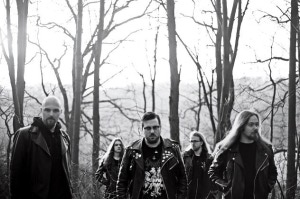 This fall will see the OUTRE's full length debut album Ghost Chants emerging through Third Eye Temple in cooperation with Essential Purification Records and Godz Ov War Productions.
This time OUTRE will stray from the path paved by previous output, the EP and a split with Thaw, in favor of more aggressive yet compact forms. Ghost Chants contains mighty slab of what can be called modern Black Metal in vein of DEATHSPELL OMEGA, BLUT AUS NORD or OMEGA MASSIF.
Ghost Chants will appear as a regular CD as well as vinyl LP. Official release date will be confirmed in the first half of September. Still it is not the end of the revelations to come.The dawn of next year will bring split output shared by OUTRE and ENTROPIA, containing exclusively premiere material. It will be by all means exceptional, but the details will be revealed in an appropriate moment…
Cover artwork by Robert A. von Ritter.