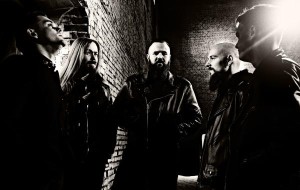 After successfully releasing their debut full-length on CD to worldwide praise, Polish black metallers OUTRE will be releasing Ghost Chants on cassette and vinyl. The vinyl version will be once again handled by Godz Ov War, Third Eye Temple and Essential Purification Records, scheduled for release in the second half of September 2015 in a limited run of 400 copies, which will also include 66 strictly limited and exclusive wooden box copies.
The debut full-length will also receive special cassette treatment. This will include two limited versions with different artwork; one will be released via Canadian Medusa Crush Recordings and one via German Monotonstudio Records.
This is not all. The band has also announced that they will hit the studio this Autumn to record new material for a split EP with Barshasketh. Godz Ov War and Third Eye Temple will team up with Blut & Eisen to release it, however, the street date is yet unknown.
In addition to the recent In Flammen Open Air announcement, the band will be performing at the prestigious Brutal Assault Festival in Czech Republic on 5th – 8th August 2015. They will be joining a great bill of bands such as TRIPTYKON, VADER, AGALLOCH, GODFLESH, CULT OF FIRE, KREATOR, BLOODBATH and many, many more.