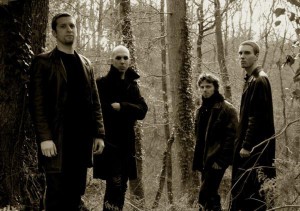 "Looking for the successors of EMPEROR and ARCTURUS? Stop here, they come from France and their name is Orakle" (GOD. 08-08). Along the years, beyond obvious connections with the sophisticated, progressive and avant-garde black-metal scene first developed by the aforementioned, ORAKLE patiently assembled the pieces of a very personal approach to extreme music.
Starting back in 1994 under the impulse of 14 yo friends Clevdh and Achernar, ORAKLE first had to deal with most young bands' troubles, that is to say, line-up changes, death(s) and eventually rebirth(s).
With the self-produced EP "L'ineffable émoi" in 2002, Orakle lays the foundation stone of its style: epic and emotional songs built on contrasts and atmospheres, and exclusively sung in French. Three years later, with the addition of Amar Ru (guitars), "Uni aux cimes" confirms the previous effort and takes the intensity of the music a step further.
In 2007, after having welcomed guitarist Eithenn, ORAKLE signs a deal with Holy Records (SEPTIC FLESH, NIGHTFALL, MISANTHROPE) and consecutively gives birth to their critically acclaimed "Tourments & Perdition", featuring 7 songs of dark, progressive, emotional and challenging black-metal. With the addition of Emmanuel R. (keyboards), Orakle performs at various venues and festivals, culminating in June 2009 with a show at Hellfest. In September 2010, guitarist Amar Ru decides to part ways with the band.
Seven years after "Tourments & Perdition", Orakle signs with Apathia Records and is ready to release their new album "Éclats" in May 2015.
Line up:
Frédéric A. Gervais – Vocals, bass
Pierre "Clevdh" Pethe – Drums
Etienne Gonin – Guitar
Antoine "Ohm" Aubry – Guitar
Emmanuel Rousseau – Keyboards