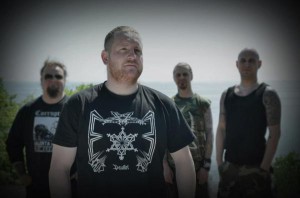 Polish death metal quartet OGOTAY has just signed a deal with Selfmadegod Records to release their new full length entitled €œDead God's Prophet. The band including Marcin Świerczyński (YATTERING) – bass, vocals, Artur Piotrowski (MESS AGE) – guitar, Andrzej Peszel guitar, Szymon Andryszczak (PANDEMONIUM) – drums recorded 8 new songs in G Studio sometime in 2014.
The follow-up to 2012's "Eve of the Last Day" is set for August 1st 2015 release via Selfmadegod Records on CD/digital. €œDead God's Prophet" is the first song from the upcoming album available for listening and can be streamed at Selfmadegod Records' SoundCloud or YouTube channel.
OGOTAY is a new, promising group of musicians associated with Tri-City (Poland) music scene. At the beginning of 2011 Artur "Gufi" Piotrowski (MESS AGE) and Andrzej "Pieczar" Peszel (Fulcrum) have started a joint attempt to create several songs. Finally 10 compositions were created quickly together with Marcin "SVierszcz" Swierczynski (YATTERING, SAINC) who supported Gifu and Pieczara. In September the band finishes working on promotional material and starts working with Szymon "Simon" Andryszczak (PANDEMONIUM) on drums. The debut full length was recorded and released April 2012. The band has played bunch of shows along with bands like MORBID ANGEL, TESTAMENT, NAPALM DEATH, VADER, LOCK UP in support of new release. Shortly after OGOTAY started working on the second full length €Dead God's Prophet.
OGOTAY plays brutal and technical old fashioned death metal in the vein of MORBID ANGEL, IMMOLATION and the likes.
Tracklisting:
1. Dead God's Prophet
2. Antiseptic Hell
3. Axis Mundi
4. Entering The Void
5. Bastards And Orphans
6. Kneel And Die
7. The Wasteland
8. Huge Fucking Nothing
Discography:
Eve of the Last Day (2012)
Dead God's Prophet (2015)