OBSCURE was one of the first Death Metal bands formed at around the years '88/'89. The band's core draws from the germ of a previous band, in which Enri Sanchis (drums), Voris Ortiz (guitar) and Rafa Cortés (guitar) decided to take a different path and start writing new songs. Vicent Riera would join later as a vocalist, to this first line-up. We record our first demo, "Disgusting Reality" at the end of '89 and soon later asked Anselmo Roca (singer and guitar in AGGRESSOR) to cooperate in OBSCURE's live shows playing the bass, but since AGGRESSOR did split-up, Anselmo remained as a permanent member of the band.
It was in October 1990 when the recording of our maybe most well-known demo "Curse the Course" started at Distorsión Hasta la Locura Studio. From then on, OBSCURE searched for more dense and powerful sounds by lower-tuned instruments and slower and heavier riffs, moving the sound of the band towards what is now known as Death Metal sound. The band appeared in several fanzines and underground publications together with emerging bands from that moment like Entombed, Gorefest, Unleashed, Grave, Darkthrone, My Dying Bride…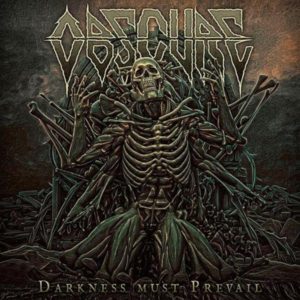 The band recorded their 3rd and last demo "Non Existendi Cultus" in '92, our most elaborated work until then. At the same time, Voris left the band. The next two years several worrying events discouraged the rest of the band's members (moving to different rehearsal rooms and job circumstances…). It took Vicent Riera and Anselmo Roca to start their own project and they leave the band as well. This meant the final dissolution of OBSCURE.
It must be mentioned the futile attempt to resurrect the band with other members in 2006, being a dismal failure.
In 2016 OBSCURE released "Back to Skull" through Xtreem Music, which collects the three band's demos. The idea of gathering the band once again, but this time with the original members came up, which included some problems that were resolved with Xavier Beleth (Noctem) joining as vocalist.
In 2017, OBSCURE started to record their long-awaited full-length album "Darkness Must Prevail", which took them two years to get it completed, containing both new and unreleased songs from 90's. The album was mixed and mastered by Dan Swanö at Unisound Studios and will be released in November 2019 through Xtreem Music.
Line-up:
Xavier Beleth – vocals
Rafa Cortés – guitar
Voris Ortiz – guitar
Anselmo Roca – bass
Enri Sanchís – drums