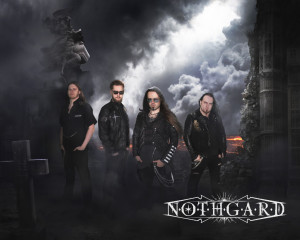 NOTHGARD is proud to announce that their third album, "The Sinner's Sake", is going to be released on September 23rd 2016 via NoiseArt Records. "The Sinner's Sake" includes the following special guests: Jeff Loomis from Arch Enemy, Jen Majura from EVANESCENCE and Robse from EQUILIBRIUM.
Founded in 2008 by singer and lead guitarist Dom R. Crey (from Equilibrium), NOTHGARD drag along the winning ways since their debut album "Warhorns Of Midgard" from 2011. The high technical quality of their guitar work and the epic orchestration of their Melodic Death Metal elates fans and critics alike. In 2014, the band released another epic milestone of deadly Metal, memorable melodies and inluences from both neo-classical and folk music called "Age Of Pandora". In the meantime, NOTHGARD became members of the NoiseArt Records family, who will escort their new masterpiece "The Sinner's Sake" on the band's way to the top of the Melodic Death Metal throne.
Starting with an imposing blockbuster intro, "The Sinner's Sake" bestirs itself as a fantastic giant. Deadly rifs meet playful, catchy lead guitars, while the epic orchestration arranges for a cinematic atmosphere that will bring goosebumps to your skin!
Completed by Dom R. Crey's raw vocals, NOTHGARD's sound is both stormy-spectacular and full of a sublime atmosphere. The top-class guest list on "The Sinner's Sake" adds another special mark to the album. No one less than guitar virtuoso Jef Loomis (guest solo in "Iron Sights"), Jen Majura (guest vocals in "Sin Eater" and "Draining Veins") and Robert "Robse" Dahn (additional growls in "Death Unites") show up to leave their marks on the respective songs.
With "The Sinner's Sake", NOTHGARD set of into the most spectacular chapter in the band's history so far. The songs that are spiced with cinematic elements will show NOTHGARD's intoxicating vibe on an entirely different level both in the stereo system and live on stage.