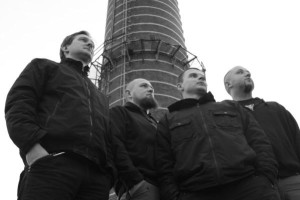 We are proud to announce that NORYLSK from Wloclawek, Poland has just signed a deal with Selfmadegod Records to release their second full length. The grind four piece is currently in the studio to record "Catholic Dictatorship". The album is slated for summer 2015 release.
Lukass (drums) comments on the new album: "€™Catholic Dictatorship"€™ includes 14 new songs of solid grindcore right in the face of clergy. Like the previous album we are recording this one in the studio that belongs to Michal Grabowski (FETO IN FETUS).
NORYLSK plays pure and ferocious grindcore in the vein of early AGATHOCLES, early NAPALM DEATH, WARSORE, INSECT WARFARE and the likes.
The band has started mid 2008 when Kwiat, Budyn and Tv met LukaSS. They had an idea to create grindcore band. With heads full of ideas, they managed to record few songs at Michał Grabowski's recording studio in the end of 2009. The songs were released on the split "€œThe Strange Case of The Missing Corpse"€ by German label Angel Aids Records. January 2010 the band recorded their first full album entitled €œPolitical Pollution" at the same recording studio. At first it was released D.I.Y. by the band but Let It Bleed Records reissued it eventually on CD. For this entire period NORYLSK has been promoting "Political Pollution" and writing new songs. November 2014 the band has completed writing process for "Catholic Dictatorship" and is currently in the studio to record the sophomore full length.