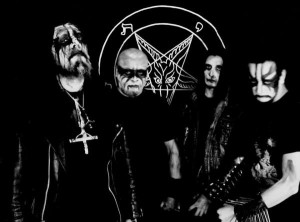 KASBEEL, the southern Black metal band is already whipping the obscure and blaspheme scene with their first full length called REBELLION AND OPPOSITION. With a crude sound with antichristian lyrics a is the new strike that offers the chileans black metalers which had edited this album under Australis Records on CD format.
Rebellion and Opposition was recorded on the Acusti-k studios between July and October 2013 and was masterized by Pablo Wawa GuidiĂąo on Maestria Studios.
The release of this infected opus consists in 9 tracks which are added to a serie of presentations in which KASBEEL, have spread their black pest, such as sharing stage with Marduk this past april 2014. KASBEEL, line up is conformed by Guillermo Elgueta (Bass & Vocals), Jorge Ortiz (Drums), Rolando Illesca (Guitar) y Baltazar Brevis ( Guitars & Backing Vocals).