Experience SVARTA SANNINGAR's new single and music video "Kemisk Reinkarnation". This song can be described as an occult DEPECHE MODE in their darkest moments, combined with elements from bands like OPETH, TIAMAT and GHOST. Let yourself be embraced by the chemical reincarnation. A bittersweet preview of the upcoming EP "Kapitel 2" which will be out on May 21st.
FACTS ABOUT SVARTA SANNINGAR
The band's journey began in 2017 with two old friends, lukewarm beer and a dinner at a Chinese joint in Gothenburg. The founder the gothic metal band BESEECH, Klas Bohlin (vocals) and Jonas Persson (guitar) were talking about music and vinyl records, but were also a bit excited in founding a new band. SVARTA SANNINGAR was formed shortly after in the city of Borås, when Mattias Lejon (bass) and Håkan Carlsson (drums / BESEECH), became a part of the dark musical vision.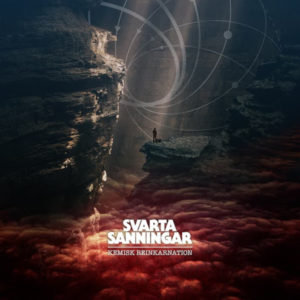 In November 2018, the first EP "Kapitel 1" was released. Despite lyrics in Swedish, Svarta Sanningar caught most attention outside Sweden, but also in respected media such as Inferno (Fin), Legacy Mag (Ger), RockHard (Ger), Made in Metal (Esp), Cryptic Rock (Usa) and S.O.S Heavy Metal Radio (Prt).
BACKSTORY – THE CONCEPT BEHIND THE LYRICS
On September 29, 1976, a landslide occurred on the Swedish island Fjärrö, which was officially declared a natural disaster. At the same time, excavations were underway on the island by the corrupt corporation PBCL Investments, which according to anonymous testimonies had connections to the occult order society Svarta Sanningar. The anxiety among the island's free church activists was great and a wave of suspicion grew stronger, the closer they got to the truth and the local private clinic Fyrens Hospital. A longer version of the backstory can be read in its entirety on their website.
SVARTA SANNINGAR are:
Klas Bohlin – Vocals
Jonas Persson – Guitar
Mattias Lejon – Bass
Håkan Carlsson – Drums
https://svartasanningar.se/en/the-horror-story/