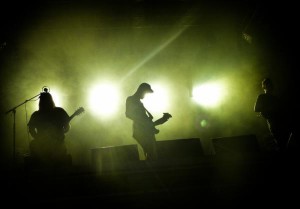 The Swiss post-metal/hardcore outfit NEVBORN has just unveiled a brand new song with New Noise Magazine. 'Ozymandias' is the first to be unveiled off of their upcoming debut full-length album "Five Horizons", which is due to be release next month, on the 20th, via Hummus Records.
The band had to say the following, about the mentioned track: "
"Ozymandias, King of Kings, have just learned through an explorer's speech that an assault against his empire is imminent. Thinking no one would dare to defy him, Almighty God, only disregard is raised. However, curiosity is taking over his ego; the King hurries up, climbs the tallest mount of his kingdom and, admiring this audacious chaos coming, exclaims: "My name is Ozymandias, King of Kings, look at my works, ye Mighty, and despair!"
This song closes up the explorer's journey recited through a seven track album. Moved off to prove that other worlds are present beyond the seas to his people, his comeback leads to the King an emotional struggle mixing presumption, hate, and.. angst?"
NevBorn has a message to send, way beyond their five mysterious horizons. Could it be that post-hardcore still has a beating heart? How do these five Swiss youngsters dare to pretend to bring anything new to the table? Heavy drums, massive simplistic riffs and screamed vocals interrupting melancholic spatial ambiances. We all heard this 20 years ago already – but this also means they're born with it! This sad, violent and introspective music flows naturally through their veins and poisons Matthieu Hinderer's urgent and touching vocals. What could have been a well-educated stylistic homework reveals itself as a true physical journey. Sincere emotions transcripted in guitar distortion that are about to blast the last depressive remains of your adolescents frustrations.
It took Hinderer 6 years to give birth to such a baby, facing constant line-up changes and doubts since 2008. So much it seemed this band would never see the light. After twenty shows and many demo recordings, he finally gathered a group of musicians and friends, solid enough to carry this heavy load of music he had in mind for so long. One may say it's a necessary pain for a debut album. Wherever this silently grown anger came from, it breathes now for good in the music of NEVBORN.
Line-up:
Matthieu Hinderer (Guitar/Vocals)
Nicolas Huguenin (Drums)
Brice Geiser (Bass)
Mathieu Rubi (Guitar)
https://soundcloud.com/hummus-records-1/07-nevborn-ozymandias