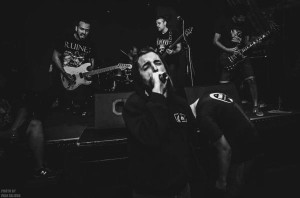 Post hardcore frenchmen NESSERIA have signed to Deadlight Entertainment record label(COWARDS, WITCHTHROAT SERPENT, PRIMAL AGE) for the release of their upcoming 3rd album. This new album is called "Cette Erosion de Nous Mêmes" and has been recorded at Drudenhaus Studio (ALCEST, ANOREXIA NERVOSA). And yes, this collaboration ain't nothing but new as we released the band's last album "Fractures" on CD in 2015.
Quote from label "For some years, NESSERIA was among the bands we were following with strong attention. When in 2015, we had the opportunity to release the CD edition of "Fractures", there was no hesitation from us. ANd the collaboration went so wellit was logical to carry on with this new album we loved at first listening"
Far from being unknown, NESSERIA released 2 albums, several split and EPs and are known for their intenses shows. The band toured in Europe, Canada, Russia, Japan. "Cette Erosion de nous Mêmes" will be released before the end of the year on CD/ digital.
https://nesseria.bandcamp.com/album/nesseria