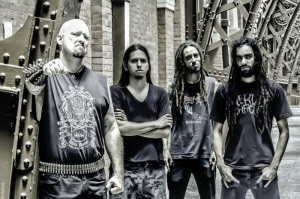 Fed-up with the entire trend flooding the scene, NERVOCHAOS was formed in mid-1996, with the idea of creating an aggressive and chaotic music shredding the barriers of Death Metal and Hardcore. The band gained cult status in the extreme music scene due to their hard work over the past years, offering a sonic extravaganza in their unique way. Their demo-tapes have become collector's items in the underground, supporting their regular releases. The band is not afraid of touring or performing live. They did many tours around Europe, South America; and shared the stage with several acts such as VENOM, POSSESSED, CANNIBAL CORPSE, KREATOR, BIOHAZARD, AGNOSTIC FRONT, CARCASS, NAPALM DEATH, DISMEMBER, D.R.I., MAYHEM, THE EXPLOITED and many more to list.
After 18 years of churning out some of the most furious and vehement metal the South American underground has experienced, NERVOCHAOS is back with The Art of Vengeance. The band's sixth studio album, The Art of Vengeance is poised to be a standout album of 2014.
NEWS
The band's most varied and devastating release to date, The Art of Vengeance blends elements of traditional death, bonecrushing doom, punk and thrash for results that are both destructive and addicting. The first pressing of the album also includes a bonus DVD featuring a documentation of the band's latest tour.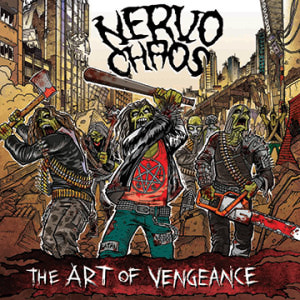 Tracks:
The Harvest
For Passion Not Fashion
The Devil's Work
Betrayed
From Below and Not Above
Blood Ritual
Rotten Moralismo
Shadows of Destruction
Ghost of the Past
What is Dead May Never Die
The Legacy is Pain
Lightless