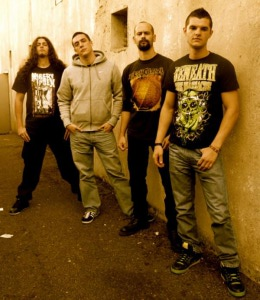 French Death Metallers NEPHREN-KA have just unleashed their brand new music/lyrics video hybrid for "Praise Shaï-Hulud" as an exclusive premiere at Metal Injection.
The song is taken from the band's 2013 debut full-length, The Fall of Omnious on Kaotoxin Records. The video was directed and edited by Xirod Media and features the band performing with lyrics included. Ready for a brutal karaoke?
NEPHREN-KA's follow-up to 2010's Revenge and Supremacy EP is the musical embodiment of Frank Herbert's 'Dune' saga. As heavy as Shaï-Hulud, the giant worm, and as brutal as a horde of raging Feydakins, The Fall of Omnius is the manifestation of a war for survival and supremacy. Produced at Hertz Studio (Behemoth, Vader, Insain…) and featuring artwork/layout by Stan W. Decker (Avalon, Vanden Plas, Dysmorphic…), The Fall of Omnius is dark, heavy, and frighteningly intense Death Metal.
NEPHREN-KA is:
Laurent Chambe (Vocals)
Sébastien Briat (Guitars & Backing vocals)
Alexandre Phalippon (Bass & Backing vocals)
Thibaud Pialoux (Drums)