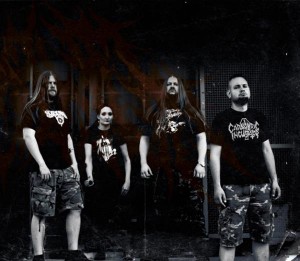 NECRODIUM is a Finnish Brutal Death Metal band founded 2006. The band started as a trio: Henkka (guitar), Wallu (bass & vocals) and Ake (drums). With that line-up, NECRODIUM recorded its first demo "Demo 07".
In 2008 Ake was kicked out and Kim joined in as a new drummer. The band rehearsed actively at that time, played some gigs and recorded three demo tapes: "Postmortal Vengeance" (2008), "Altar of Condemned" (2009) and "To Oblivion" (2012). For having more power and diversity to Necrodium's sound, Henkka started to do backing vocals after "Altar"-demo.
The line-up lasted until the end of the year 2012 when Wallu decided to leave the band and Linda joined in as a vocalist and Mika as a bass player. With Mika, NECRODIUM did few gigs and recorded its first album, Remnants (Breaking Wheel Productions, 2015). Mika left the band in january 2015 and Kaj replaced him right after.
NECRODIUM has done several gigs since 2009 with bands like CEREBRAL BORE, TOOLS OF TORTURE, DESECRATION, LITHURIA, ATRETIC INTENSTINE, CUMBEAST, ABHORDIUM and OBSCURE BURIAL.
NECRODIUM is:
Lin Morbid – Visceral Vomiting
Henkka Disembowelment – Shredding and Screaming
K. Mutilator – Beating and Kicking
M. Putrefaction – Pulse of the Undead
https://www.facebook.com/NecrodiumOfficial?fref=ts