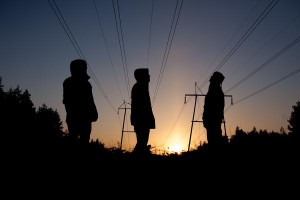 After receiving praise for two EP-length releases, the process of making the first BURWEED full-length did not turn out to be as easy. Writing the album was a long and difficult task. Confidence in the material and the band were completely buried at the end of the recording sessions.
The album was finished in early 2014, however, it laid untouched for over six months. The distance gained during this period showed the album in a new light. The difficulties faced, the frustration, and the dedication to the album are heard in an uncompromising, passionate, and an overwhelmingly cathartic whole. €œHide€ had risen from the ashes.
Burweed was formed in 2009 in the midst of a creative outburst. The trio found their own voice on the praised "Eyes Down South EP€ in 2012. What does Burweed sound like? Try combining the groove of Deftones with the gritty riffs of MASTODON and top the mix with some melodies size of a tidal wave.
Burweed's debut full-length Hide comes out February 20th, 2015 on Inverse Records. Hide was recorded in 2013 at Korkeakoski Studios (INSOMNIUM, Bob Malmström). The record was mixed by Antti Loponen, the mastermind behind Consciousness REMOVAL PROJECT, and mastered at Audiosiege by Brad Boatright (responsible of mastering CONVERGE, SLEEP. SUNN O))) among others).