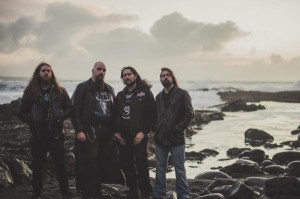 NARTHRAAL started out late 2012, when the current vocalist Viktor asked current rythm guitarist Tony if he'd like to start a band together.
Viktor would be vocalist and Tony would be on bass, Viktor started looking for members on facebook, where he met Helgi and Kari who would join the band and complete the lineup, with a few minor alterations. Helgi would be on drums, Kari would be lead guitars, Tony would be rhythm guitars and Viktor would be on bass and lead vocalist. Early 2013 Helgi had to resign due to personal matters and Jonas was then welcomed into the band as a new drummer. And in early 2016, Kari left and BIRKIR joined the band as lead guitarist almost the same week.
"We love old school Swedish death metal and are so far the only band in Iceland that actually uses Boss HM-2 that produces that beautiful fat, filthy sound!"
News
Icelandic old school death metal band Narthraal is about to release their debut album named "Screaming From The Grave". The album is released May 26th via Finnish label Inverse Records.
Vocalist/bassist Viktor comments the album and single: "Screaming From The Grave focuses more or less on human greed and how it is consuming the world and destroying it, the evil of organized religion and of course, gore, death and zombies!. Death of the undying revolves around religion and how more and more people are slowly becoming enlightened"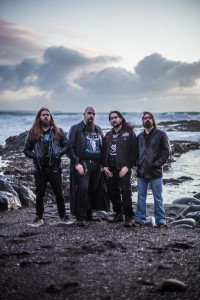 He also gave details about the upcoming tour: "The upcoming tour 'Lullabies From The Grave' is our very first tour overseas and we can't wait to stand on stage in front of a whole new audience!"
Line-up:
Vocals/Bass: Viktor Penalver
Rhythm Guitar: Antonio Aguilar
Lead Guitar: Birkir Karason
Drums: Jónas Haux
Discography:
Blood Citadel (EP) 2014
Chainsaw Killing Spree (EP) 2016
Screaming From The Grave (Album) 2017
https://narthraal1.bandcamp.com/