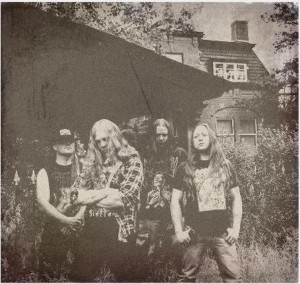 A penetrating story…
Out of the scattered remains of the gory Dutch underground NAILGUN MASSACRE was stitched together by some of the scene's most notorious undead veterans.
Heavily disgruntled with nowadays death metal this conspiracy commenced a piercing rampage against blast beats, technique neurotics, hippies and semi-intellectuals. Blunt as fuck, brutal as hell. Bad-tempered with long greasy hair, barely covering their red necks, and a disturbing fascination for powertools; NAILGUN MASSACRE grimly resurrected to drive rusty nails of eighties death metal into the third millennium's cripple carcass.
First assault: BACKYARD BUTCHERY, a monstrous debut featuring legendary PAUL SPECKMANN of MASTER / DEATHSTRIKE / ABOMINATION, unleashed on the first day of April 2011 by SLOWRUNNER RECORDS. Gigging away in dingy hellholes NAILGUN MASSACRE got picked up by XTREEM MUSIC, successor of the infamous REPULSE RECORDS and DROWNED PRODUCTIONS, and resurfaced with a second horrifying assault BONED, BOXED AND BURIED unleashed on the tenth day of January 2015.
Now if you dig the likes of AUTOPSY, IMPETIGO, MACABRE, PUNGENT STENCH and so on, guess what: you just might dig NAILGUN MASSACRE! So, what the heck, give it a try. It won't hurt right? Mwahaha!! Oh yeah and NAILGUN MASSACRE currently features members of CENTURY MEDIA RECORDS recording artists GRAND SUPREME BLOOD COURT and SOULBURN. Well, for whatever it's worth, that's about all the name dropping we can think of at the moment folks… If you require more irrelevant information please do not hesitate to get in touch.
http://www.nailgunmassacre.net/