NahemiA was founded in 2013 in Poland by drummer Bil, and hit its stride in 2015 with a partnership with the multi-talented Giulian (also of Italian epic Black Metal band Scuorn). Following the limited release of two singles and one three-track demo, NahemiA recruited Rimmon on vocals and Abdiel on bass during the course of 2016. NahemiA quickly established themselves on stage, throwing down a gauntlet to the rest of the UK Black Metal scene with a series of savage, Satanic and meticulously curated shows.
The following years saw NahemiA gain momentum with live rituals across the UK, including a five-date tour in support of Polish legends Christ Agony, all culminating with the band recording their nine-track debut, "AR-CAOSAJI", with producer Arkadiusz "Aro" Jabłoński, and with a stable lineup replacing Giulian with the talented guitarist Ienal.
NahemiA have now completed their debut opus. With AR-CAOSAJI, NahemiA stand ready to worship and invigorate the black flame in its magnificence.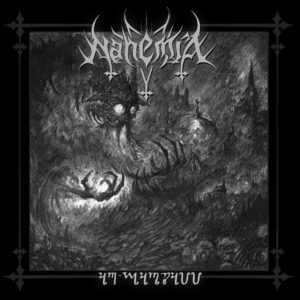 NEWS
AR-CAOSAJI features nine tracks of uncompromising, vicious and intense Black Metal, with a melodic grandeur built on a foundation of a long-established and precise rhythm section. The lyrics, written by vocalist Rimmon, deal with themes of misanthropy, death, war, blasphemy, demonology and annihilation.
AR-CAOSAJI presents a real departure from the material on NahemiA's demo and early singles, with guitarist Ienal adding a melodic yet furious flourish to material written and tested on stages all over the UK. Recorded with the assistance of Arkadiusz "Aro" Jabłoński, Ar Kaosaji presents a completion of NahemiA's journey from leaders of the UK's underground Black Metal scene to an international statement of Black Metal intent.
http://www.nahemiaofficialstore.bigcartel.com/
https://www.facebook.com/NahemiAband/