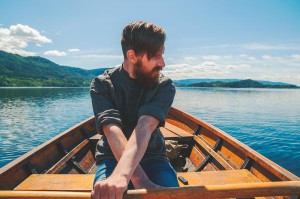 MYRKGRAV is a one-man folk metal project founded in 2003 by Lars Jensen in Norway. The band is heavily concept-based, with lyrical and visual themes rooted in folklore and local history from Lars' homelands, Ringerike and its surroundings.
Myrkgrav relies strongly on Norwegian folk music (including the use of traditional instruments) in its sound, while retaining a distinct extreme metal basis, such as to aspire towards bringing folk and metal together like it was the most natural thing in the world. What started out as a bedroom black metal project in 2003, has evolved to become a fusion of several different styles. In addition to Lars Jensen himself, Myrkgrav often features guest members that add their own flare to the sound.
About Lars Jensen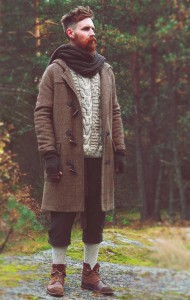 Lars was born 30.12.1986 in Ringerike, Norway. Living in the small countryside village Åsa, he was subject to the rich folklore of the area, which would eventually shape much of his professional as well as personal future. As of 2013, he is majoring in Folkloristics with a minor in Ethnology at Åbo Akademi University in Turku, Finland. He is also a cordwainer (traditional shoemaker/bootmaker), making rugged boots the old-fashioned way.
The Myrkgrav album Takk og farvel;tida er blitt ei annen (translation: Thank you and farewell; times have changed) is difficult to give an unbiased description of. In essence, it is a follow-up to the 2006 debut album 'Trollskau, Skrømt og Kølabrenning', but needless to say a lot can happen in ten years. Still, Takk og farvel represents a natural progression from what the debut album showcased: proper folk metal with roots in the blacker side of the extreme metal genres. Takk og farvel; tida er blitt ei annen launches on all streaming services October 26 th . Online FDR download with full resolution cover art from Bandcamp as well as physical format CD and limited edition CD in collaboration with Pest Productions and MetalMessage Global PR is also scheduled, but release dates are TBA.
The goal of MYRKGRAV has always been to create a natural fusion between Scandinavian folk music and extreme metal. Whilst perhaps being an overly ambitious goal, Takk og farvel further strengthens the folk music elements of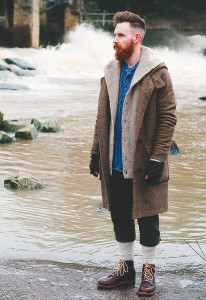 MYRKGRAV, without negating its extreme metal roots. One of the most important elements towards achieving a proper folk and metal blend was to incorporate traditional instruments into the songwriting process and giving them key roles in the compositions – rather than just to use them as a gimmick, which many so-called folk metal bands unfortunately suffer from. Professional Hardanger fiddle artist Olav Luksengård Mjelva was hired to not only record Hardanger fiddle parts for Takk og farvel, but also to aid in the production and arrangement stage of incorporating the instrument. The Hardanger fiddle is Norway's national instrument, and adds another layer of the beautifully haunting Nordic Melancholy to Myrkgrav's latest compositions.
As the title of the album reveals, Takk og farvel; tida er blitt ei annen is also MYRKGRAV's farewell record and disbanding statement all in one. Times change and the man changes with them. With a decade separating the first and second full-length with only crumbs having been shared in-between, naturally aspects have changed both for fans and band alike during the excruciatingly long radio silence. Because of this, the new album encompasses everything that Myrkgrav has ever had to offer – or at least an attempt has been made, if we are making bold statements. As such, it was a natural choice to include re-arranged and re-recorded versions of a couple of old classic songs from the Trollskau, Skrømt og Kølabrenning album, as homage to what most would probably call OG MYRKGRAV .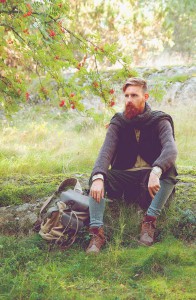 Like always, Lars Jensen presents to the world with MYRKGRAV, through the voice of music, local history and folklore from Ringerike, Krokskogen, Nordmarka, Lommedalen and the other nearby areas surrounding where he grew up. Back in 2006 Lars was but a 19 year-old folklore enthusiast – but is now at 29 a student of folklore and ethnology at Åbo Akademi University in Turku, Finland. Having access to a wide array of folklore and folkloristic learnings has also strengthened Myrkgrav's core value of exploring a culture unknown to most. While not exactly time travel, Myrkgrav aims to function as a looking glass into times past, its cultural oddities, values and stories.
And while we are talking about stories, every single lyric for every song on the album will be illustrated with hand drawn illustrations in the style of famous Norwegian author, illustrator, painter and comic creater Kjell Aukrust. MYRKGRAV is all about the full package. Not only is new music used to tell stories of times past, but the stories also deserve to come to life through visual representation. Hopefully these forgotten tales will come to life in the minds of the many, from all around the world, and take their place in history once more.
Recording line-up:
Lars Jensen: All instruments and vocals
Olav Luksengård Mjelva: Hardanger fiddle
Erlend Antonsen: Bass guitar on Bakom Gyrihaugen; Sjuguttmyra;
Skjøn jomfru; Soterudsvarten; Spålsnatt;
Tviom!; Tørrhard; Uttjent; Østa glette
Bernt Fjellestad: Clean vocals on Sjuguttmyra