Interview: Dmitry Luna
MYRKGAND is an one-man-band created by Dmitry, based on mythology, fantasy, monsters, etc. The project counts on special guests apparitions from bands like SYMPHONY X, MYSTIFIER, NOVEMBERS DOOM, MALEFACTOR, KORZUS, LUXÚRIA DE LILLITH, STEEL WARRIOR, CANGACO, and more.
Hi Dmitry! Your project MYRKGAND belongs among young and relatively unknown groups. I will therefore ask you for a brief acquaintance and for a brief history of this form.
I created MYRKGAND with the idea of mixing some Heavy Metal sub-genres that I like the most, plus adding lyrical themes of subjects that interest me. So I got influences of Black, Death, Folk, sometimes even Doom and Power Metal, then I included lyrics about fantasy, monsters, battles, demons, elves, orcs, witchcraft… I threw everything in my cauldron and tried to make something with that. I always write all instruments of all songs: the vocals, guitars, bass, keyboards, and drums. As I'm not really a drum player, I always have the ideas, write them, and later I call a good and trustable drummer to study my ideas and perform in the recordings. Though this is a one-man-band, when I was very close to record the 1st album I decided to call some friends to sing songs with me, or perform some solos.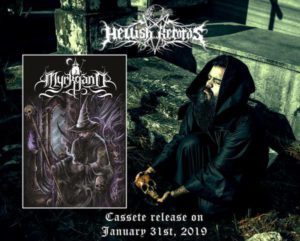 In addition to MYRKGAND, you acted in a number of other projects such as HATE EMBRACE, METACROSE, MALKUTH NECROHUNTER, etc. So is MYRKGAND the main priority, to which is everything else subordinate? What does the band have to do to make a possible cooperation with her?
MYRKGAND was always my main band, and always will be. All bands that I played before know that, some of them always respected, but for others I know this sometimes causes jealousy, it is normal. I'm very rigorous with organization and time, specially with myself, so it is easy to get everything done, even if you play in many bands at the same time. I don't like to give excuses, I just like to get things done. Because of that, even the jealous bands could not complain about me, my performance, and what I always have or had to offer to the band; about business, strategies, artistically etc.
Let´s go to the debut "Myrkgand" now. It brings eleven tracks bearing on black / heavy / folk wave. I confess that I was expecting something else because of your origin. However, South America is known primarily for the brutal aspect of the metal music. So why did you decide just for this style? Is it closest to your musical thinking?
As I told you before, I blended some Metal genres that I really love, and the sonority obtained was just something that happened naturally as a result of this mixture. South America has a lot of different bands, specially here in Brazil (which is the biggest country), where you can find big Death Metal bands (SEPULTURA, KRISIUN, NERVOCHAOS etc), big Black Metal bands (MYSTIFIER, SARCOFAGO, LUXÚRIA DE LILLITH etc.) and big Power/Melodic bands at the same time (Angra, Shaman, Hibria etc). I'm a fan of many different bands, I could easily create a brand new band just to play "Old School Death Metal" like Death in its 1st albuns or Autopsy, and I would really enjoy playing it; or I could easily make another band just to play Power Metal like BLIND GUARDIAN, RHAPSODY and MASTERPLAN, and I would love doing that; or eventually I could create a Black Metal band and play stuff like LIMBONIC ART, NARGAROTH or SARCOFAGO, and I would be glad having a project like that, because I listen to all of them. My musical thinking is this way, but MYRKGAND is not a synthesis of it, it's just a specific idea. I like other music genres too: Heavy Metal, classical music, folklore from specific countries, bossa nova, jazz, games soundtracks… My mind is opened for what is good and well done. Of course you can find shitty bands in ALL these genres I mentioned here, and you can find brilliant ones as well.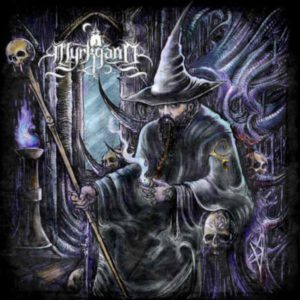 The debut also impressed with the well-crafted incorporated keyboards and the abundant use of pure vocals. How did you choose which passage would have which vocal? Is it given by the concept of the whole story?
In the occasion I created the keyboards in cooperation with Diego DoUrden, who is Mystifier's frontman and produced/recorded my debut album. We were writing synths together and giving good ideas or denying the other's ideas, hahaha. It was very important, 2 minds thinking and bettering the way the keyboards sound. I don't think the clean-vocals were abundant as they only appear in half of 2 songs, and the album has 11! But since the beginning I had the idea of including them, yes, and I didn't plan how many songs I would include clean-vocals, it just happened in a natural way. I just listen and realize what fits better in each part of each song, in my opinion. The new album will have clean stuff, perhaps explored in another way sometimes… This is not something new in Melodic Death Metal, or even in Black Metal, as you can find clean vocals in bands such as Mystifier (The World is So Good… etc), MALEFACTOR. Even Angra in their last album made a song with both Death Metal and Power Metal vocals featuring Alissa from ARCH ENEMY. I remember another bands… SCAR SYMMETRY, CRADLE OF FILTH etc. Remember that MYRKGAND is a mixture? Melodic Metal is included in this mixture, so clean singing is just one more element of Myrkgand's proposal.
As already mentioned, "Myrkgand" represents a conceptual story. Could you briefly tell something about the storyline of the album?
MYRKGAND is about mysteries, legends, witchcraft, myths, demons, monsters, realms… One must have it and listen to it very carefully, reading the lyrics and seeing the whole artwork, to understand and get his/her own interpretation about this reality. I don't like giving spoilers, haha, and you must think by yourself and seek for what is beyond.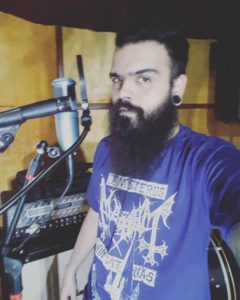 How did you proceed within the compositional process itself? Was the music subordinated to the needs of a story or vice-versa did you adapt the story to the already finished compositions?
Both. Sometimes I create whole songs and take a long time to create their lyrics, but sometimes I have the lyrics and do new riffs already thinking about the story. I think this will depend on the inspiration of each moment.
Several guests were also participating on the album. According to what key did you choose? Was anyone you wanted to have on the album, but you did not convince him to be on the album?
I included only musicians who are my friends, and are very good and well talented at the same time. So it was easy reaching them and making this great team, I had no problem at all, and I'm doing the same for the next album! Of course I had specific ideas for each one, and it was incredible having them in this work, as when I was very young I was already a fan, but I didn't use to know any of them in person. For me it's just an honour having these people working with me in my first album. SYMPHONY X, MYSTIFIER, MALEFACTOR, NOVEMBERS DOOM, LUXÚRIA DE LILLITH, STEEL WARRIOR, CANGACO and much more.
One of the interesting things in connection with MYRKGAND is your image. It is quite original compared to classical, especially black metal fighters. Betray something more about it…
The Magician/Wizard is the main character behind Myrkgand's concept, as you will see in upcoming acts. But you must have already noticed MYRKGAND has this middle-earth/medieval/RPG feeling, so you can expect more of this kind of look/clothes in all characters.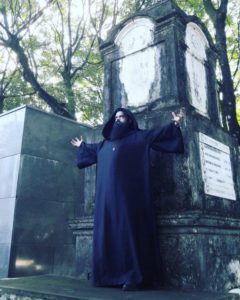 The logo of MYRKGAND is work of Christophe Szpajdel. How did your collaboration work? Did he have an absolute free hand when creating the logo, or did he follow your imagination and instructions?
Christophe is an amazing guy, he did my logo in total friendship. I gave him just a few ideas because I just wanted a symmetric logo, the moon etc… but I gave him freedom to make his magic the way he wanted, and we got this beautiful art. He is a monster, specially for creating EMPEROR, TSJUDER, and ENTHRONED logos. I love these ones!
Debut has so far been released in four CDs and one MC form. How do you choose who will publish your work? And is there an LP version as well in plan?
I just see if the label is trustable, honest, who they worked with in the past, if they are organized, if the proposal is good for both sides… 5 versions are out already; in Japan, Russia, Brazil, Portugal and Czech Republic, but there are 4 more versions to be released in the upcoming months: Digipacks in Mexico and Poland, cassettes in Brazil and Malaysia. Unfortunately I didn't find a label to release the vinyl version yet, but I really want it! Contact MYRKGAND if you own a label and have interest. I really want 7'' or 12'' MYRKGAND vinyls.
I will stop for a while by the MC version of the debut, which was released under the title of the Czech label Evil Horn Records and on which is interesting that the description is in Czech. Did Jirka come up with this idea or was it your wish?
It was my idea, and I change arts in each version too, because I want all of them to be unique. It is more interesting this way. Japan is everything in Japanese, Malaysia version will have information in their language too, Mexico in Spanish… Although, other labels chose to keep everything in English (Russia, Brazil, Portugal, Poland).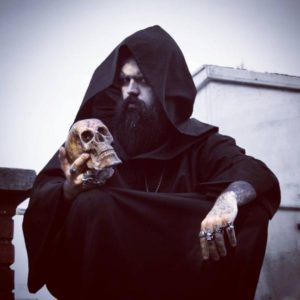 Let's go now to the future of MYRKGAND. The new material is creating in Roland Grapow's (ex-HELLOWEEN) studio in Zvolenská Slatina. How did it come to your collaboration?
We are talking about it for almost a year. We were friends in social media, then one day I learned about his work as music producer with his studio in Slovakia and we started this contact. He's a nice guy, very professional and trustable. He is already helping me a lot with a lot of stuff! Soon I'll reach Slovakia to meet him and record MYRKGAND 2nd album. Stay tuned!
When we already have mentioned the new material, please betray something more about it? In what direction should the new album go compared to debut?
There are similar things in both albums, as the main idea and the band's purpose is kept, but I added new elements in a few songs. I always try to create songs that are balanced between Melodic, Folkloric and Extreme stuff. But the particularity of this new one is that I explored a little bit more of Black Metal influences, BM riffs, blast beats, and also some Old School Death Metal riffs. Fast and slow riffs in general, and always melodic black/death metal riffs, with an epic atmosphere, acoustic guitars in specific fragments etc.
Thank you for interview. Something at the end…
Thank you. Thanks to all MYRKGAND supporters and to everyone who's working with me to spread this mystical magic. You can find CDs, T-shirts and patches for sale at the band's store www.myrkgand.com/shop – any labels interested in signing with MYRKGAND to release this new album recorded and produced by Roland Grapow (ex-HELLOWEEN, MASTERPLAN) + special guests, please contact myrkgand@gmail.com to deal. Cheers!
Dagon