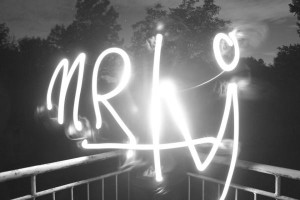 MRTVI is a one-man black metal project concerned with exploring the negative dissonance of the aural and emotional spectrum. The début album, Perpetual Consciousness Nightmare depicts the moments and thoughts following a young man's suicide. It tells the story of his travels through what Buddhists described as the 'intermediate stages' between lives. After reflecting on his own thoughts and emotions, he slowly comes to realise that his work is unfinished; that life is a maze, a puzzle to be arranged and rearranged, and that his return to the physical realm is imminent.
Written and performed by Damjan Stefanovic, who has worked with members of CRADLE OF FILTH, AKERCOCKE/VOICES, SOILWORK, and Dăm, Perpetual Consciousness Nightmare was recorded from summer to winter of 2014. The music was recorded at his home studio, while the vocals were recorded between Warlock Studios (who also mastered the album), and Rob Archibald (ex- AKERCOCKE) at Greenville Studios. "I wanted a really full, oppressive, heavily layered sound," he said, "All the songs have at least 3-4 guitar layers at any one time, and each song has at least 3 vocal tracks. I wanted it to be stifling, like listening to a person's madness or confusion subjectively." As for influences, he says that bands such as MAYHEM, PORTAL, and DODECAHEDRON were important, as well as Canada's underground act Thantifaxath, and London's Voices. "I like bands that sound like they are trying to break the rules, I wanted to make music that sounds 'wrong'," he added.
The album is set for a limited edition release on May 25th 2015 on CD, digital and cassette tape via the US based Into The Night Records.
MRTVI is:
Damjan Stefanovic-All instruments and voice