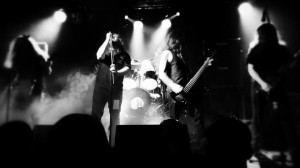 Irish doom behemoths, MOURNING BELOVETH, have confirmed that they are working on a a new album, to be released this coming winter via Ván Records.
The Irish heavyweights are putting the finishing touches to the writing of the 50+ minute opus which will be recorded at Skyhammer Studio in September. The album, which will be titled Rust & Bone, is the follow up to 2013's Formless.
The band commented:
"Joining one of the most eclectic, exciting rosters in today's scene is another shot in the arm for us as we circle 20 years of existence. Mourning Beloveth look forward to working with Ván Records, the first fruits of which will appear later this year. Rust & Bone, our sixth album, takes us on a half journey between everywhere and nowhere, from our very core to the coldest star. As such, the process started with what was our original organic experiment, Formless. Expanding, contracting. A headlong dive into the very DNA of the MOURNING BELOVETH multiverse while simultaneously extracting the essence, the ideal of what makes us tick. If, of course, you can escape the Mantle Tomb intact…"
The album release will coincide with a European tour with HOODED MENACE, finishing up at the legendary Eindhoven Metal Meeting. The band will also be playing a Halloween show in Dublin on October 30 – "Fires of Samhain:Intium", with Destroyer 666, Necros Christos, Dead Congregation and more – where they will play Formless in full, to mark the end of that album's life cycle, before unleashing their new offering.
MOURNING BELOVETH live performances
30/10 IE DUBLIN – Fires of Samhain Festival
3/12 DE HAMBURG – Hafenklang
4/12 DE OBERHAUSEN – Helvete + OPHIS
5/12 DE FREIBURG – Crash + OPHIS
6/12 CH OLTEN – Coq d'Or
7/12 IT PARMA – Titty Twister
8/12 SLO LJUBLJANA – Club Gromka
9/12 CZ PRAGUE – Exit-Us
10/12 PL WROCLAW – Liverpool
11/12 DE LEIPZIG – Bandhaus
12/12 NL EINDHOVEN – Effenaar
MOURNING BELOVETH have notched up five full-length releases in their 23 year history – once described as "both malevolently evil and bizarrely beautiful, a balancing act of some consummate skill" by Kerrang! magazine – as well as gaining a reputation for evocative and at times sombre live performances.