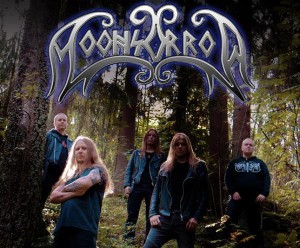 On April 1st, 2016, Finnish pagan metal act MOONSORROW will release its brand-new, seventh studio album "Jumalten Aika" – which means 'The Age Of Gods' in English – via Century Media Records. Since 2011, the fans of this heathen pack had to wait for a new opus, but "Jumalten Aika" rewards their patience to the fullest, taking the listener on a truly captivating, sinister journey back into the dark past.
"There are a lot more folk music influences present in "Jumalten Aika" than earlier", comments Henri Sorvali (guitars, keyboards & vocals). "This time around, they are more deeply integrated to the overall sound. While the previous album was more compared to a bear, slowly crushing its way
through,"Jumalten Aika" is like a circling wolf biting the hardest when you would never expect it. The music is unchained aggression, deep mysteries of the North and thundering witchcraft combined together in a molten forge of the Gods and reminds us all of something that never left our blood and
soil."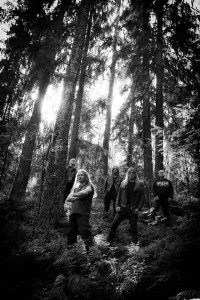 From its striking black/white artwork, the morbid band photos inside the booklet to the crackling guitars opening up the album's shortest song "Suden Tunti", there is an inevitable sense of classic black metal connecting the five new songs. Be it Norwegian bands like early ULVER or ENSLAVED as well as Sweden's BATHORY, who are the first to blame for an unholy union between extreme metal and Nordic folklore, "Jumalten Aika" equally melts aural darkness with a strong fascination for ancient times, successfully avoiding the stereotypical "It's party time!" kind of folk/metal. This is pagan
metal. A maelstrom of gloomy grandeur drenched in myths.
Supported by a crushing production, courtesy of MOONSORROW themselves, "Jumalten Aika" tells "stories of gods, of men and their fickle fates, of fire and death, of creation itself and most importantly, the runes", Ville Sorvali (bass & lead vocals) details. "They are not meant to repeat any old lore word by word. They are observations and interpretations." Thus, including English translations of the lyrics on all physical album formats comes in quite handy, allowing deeper insights into MOONSORROW's conceptual cosmos. Combined with a vast musical palette including choirs, keys,folk melodies as well as harsh black metal ferocity and clocking in at over 67 minutes, "Jumalten Aika" just like the aforementioned wolf relentlessly tears and gnaws its prey with grim determination.
Since the band's formation in 1995, many seem to feel akin to MOONSORROW's artistic path, resulting in several top 20 chart positions in their native Finland – e.g. #7 for "Varjoina kuljemme kuolleiden maassa" (2011), #16 for "Kivenkantaja" (2003), and "Viides luku – Hävitetty" (2007), #2 for "Tulimyrsky EP" (2008) – as they retained a seriousness and authenticity over the past two decades never allowing the folklore become a mere gimmick, but kept it as an integral element of their creative DNA, and darkened it a tad more on their seventh offering.
Like a prowling wolf, MOONSORROW will be on the hunt, that is – play live! An album release show on April 1st in Helsinki will be followed by a co-headlining tour in April with fellow countrymen Korpiklaani, plus a series of festival appearances throughout the Summer months including Hellfest (FR), Summer Breeze (DE), Graspop (BE), and more.
The time of wait is over.
Ragnarök awaits you…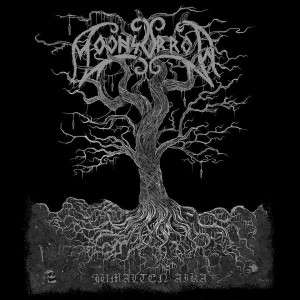 MOONSORROW is:
Ville Sorvali – Bass & lead vocals Henri Sorvali – Guitars,
keyboards & vocals
Mitja Harvilahti – Guitars & vocals
Markus Eurén – Keyboards
Marko Tarvonen – Drums & vocals
Janne Perttilä – Guitars & vocals (live only)
MOONSORROW discography:
Suden uni (2001)
Voimasta ja kunniasta (2001)
Kivenkantaja (2003)
Verisäkeet (2005)
V: Hävitetty (2007)
Tulimyrsky EP (2008)
Varjoina kuljemme kuolleiden maassa (2011)
Jumalten Aika (2016)
https://www.facebook.com/Moonsorrow-23474099648