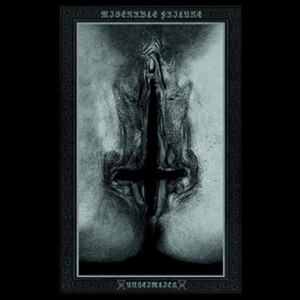 After establishing a name for themselves with numerous relentless splits with the likes of TOTAL FUCKING DESTRUCTION, ATARA and INFECTED SOCIETY (to name a few), MISERABLE FAILURE is set to return with the release of the five-song collector's edition cassette, Unheimlich.
This apocalyptic collection of tunes is the band's next step towards global domination after being honored as one of the only three grindcore bands to ever record a "Peel Session" for France's state-owned national radio network and having made their live debut at last month's KaotoxinFest#II.
Unheimlich was produced at the band's HellHole studio and features the mixing and mastering wizardry of HHStudio's Déhà at HHStudio. The cassette release will be limited to 100 copies and include a bonus patch.
The song "Author of His Own Misfortune" is streaming at  https://soundcloud.com/kaotoxin/miserable-failure-author-of-his-own-misfortune