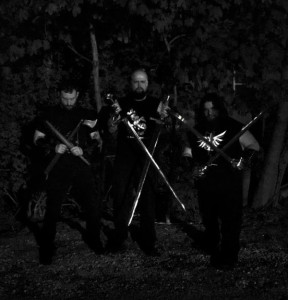 Formed in 2016 with the goal of creating contemptuous heavy metal in the vein of their influences and a mutual disgust for the safety of modern metal, Milwaukee's PREZIR has released its aptly titled debut EP, Contempt. Stream and/or purchase the EP at the following link: https://prezir.bandcamp.com/
Featuring guitarist/bassist Rory Heikkila (SHROUD OF DESPONDENCY), vocalist/lyricist Luka Djordjevic (KHAZADDUM), and drummer Brian Serzynski (Pigs Blood), Contempt is an iniquitous and undeniably feral blend of Death, Black, and Thrash Metal with influences inclusive of early Emperor, early Enslaved, Grand Belial's Key, Arghoslent, Morbid Angel, Deicide, and Destroyer 666.
Drums on Contempt were tracked by Dan Klein at Iron Hand Audio. Everything else as recorded and produced by the band in 2017. Mixing by Rory Heikkila.
Track Listing:
1. How God Loves
2. Devotee Decree
3. Holy Men of Putridity
4. The Legend of the Five Suns
5. Dar al-Harb
6. Serpents in the House of Ra