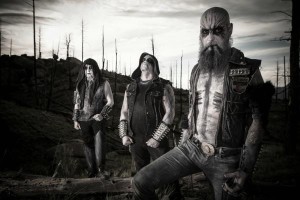 Two things always contribute to creating epic original black metal. One is location, and by being based in Colorado, the Rocky Mountains provide the ideal canvas for technical symphonic black metal band SAR ISATUM to sweep broad musical brush strokes across a vast vista, musically, mentally, and physically.
The second is lyrical inspiration. SAR ISATUM eschews all the usual flogged-to-death lyrical clichés of black metal to take inspiration from a variety of sources. The very name SAR ISATUM comes from the Sumerian dialect. It means 'King of Fire.' Indeed, both the Sumerian and Annunaki empires provide strong lyrical inspiration. Inspired by EMPEROR, DARK FUNERAL, GORGOROTH, SOTHIS AND CRAFT, band member J.P Dalkhu describes SAR ISATUM's music as "ethereal, nefarious, repugnant, abhorrent, cryptic."
SAR ISATUM have high expectations of their upcoming debut album, but at the same time, SAR ISATUM create music for themselves, not copying what has come before, but fans of various styles of black metal will find much to appreciate here. As Dalkhu so lyrically says SAR ISATUM create "a variation of extreme and atmospheric black metal as if one went through a burning battlefield and witnessed horrid devastation." Dalkhu feels that this is the best band its members have ever been a part of and are constantly evolving as musicians.
Teaming up with Metal Injection, SAR ISATUM are giving fans a sneak peak with their self-titled track from their forthcoming debut album.
The band comments:
"The song, Sar Isatum, the opening track of the album represents our own sound and influences within the band, a versatile song with a war intro that leads way to a devastating attack, a war cry and a statement to the audience by hostility nature of the band, we are the conduits of Sar Isatum and this is our ritual to capture the listener."
Listen to SAR ISATUM at the following link: http://www.metalinjection.net/av/song-premiere/colorado-black-metal-masters-sar-isatum-drop-awesomely-evil-new-track
For those in the Denver, CO area, SAR ISATUM will be performing with Inquisition, UADA, Volahn and Crafteon on September 7th at the Roxy Theatre. Full details can be found here.
"We are gonna get on stage and take it on like a battle in a war. Expect an intense live show from us, like a fire destroying everything in its path." says Dalkhu.
http://www.facebook.com/Sar-Isatum-1811781679072566/
https://sarisatum.bandcamp.com/