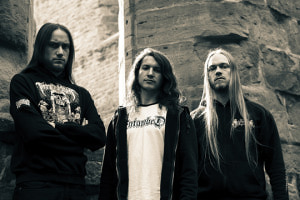 Metal Hammer Germany has premiered the new video for the title track from DESERTED FEAR's upcoming album Kingdom of Worms.
Thuringia´s DESERTED FEAR are one of the best Death Metal bands to come out of Germany in years. The band's 2012 debut My Empire was praised the world over and won them recognition in the European scene as a force to be reckoned with. Germany´s Rock Hard magazine referred to the album as "simply amazing."
Kingdom of Worms was recorded in June and July 2014 at Eisensound Studio in Eisenberg (Thuringia / Germany) under the knife of guitarist Gitarrist Fabian Hildebrandt. Mixing and Mastering duties have been handled by the legendary Dan Swanö (EDGE OF SANITY, BLOODBATH, etc.), who put the finishing touches on Kingdom of Worms in his very own Unisound Studio. The dark and atmospheric artwork was once again created by Thomas "Necromaniac" Westphal fits the music perfectly.
Tracks:
01. Intro
02. Forging Delusions
03. Kingdom of Worms
04. Call me your God
05. Wrath on your Wound
06. Torn by Hatred
07. The Agony
08. With Might and Main
09. Shattering the Soil
10. Mortal Reign
11. Last of a fading Kind