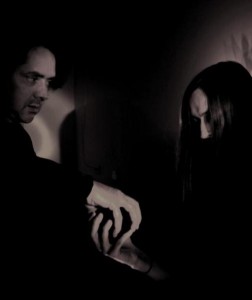 'Autexousious' is a long lost word and means exercising or possessing free will. It is also the cryptic title of Australian extreme music artist Vis Ortis' fourth album with his acclaimed project, MEKOGAH and second album released through the UK extreme music label Aesthetic Death.
Vis began working on these tracks shortly after finishing the 'Litost' album. There were a handful of tracks that were in the original Litost pool which swam a bit strangely and were ultimately excluded from the final track listing. They formed the beginnings of 'Autexousious'.
'Autexousious' captures similar feelings and sonic spaces to 'Litost', with Mekigah's signature slow tempo. Harsh, bottom end tones set the scene with doom laden soundscapes held together by stripped back drums and bass while guitars spin a whirlwind of random frequencies. These audible hallucinations are recounted by layered nightmarish vocals. The lyrics are derived from manic, abstract & personal poetry, exploring ugly, impatient & self analytical themes.
Meshed with these words are treated vocals stripped of meaning: a wordless, sound-only entity – a scream for extinction, or perhaps simply release, into the nightmare of noise. The tracks also includes passages of soundscape noise and off kilter percussion but overall retain an, albeit idiosyncratic and fairly unique song based approach. What this album gives the listener is 9 drawn out, torturously raw songs.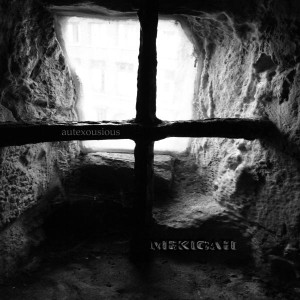 The album, once again was predominantly written and performed by Vis Ortis, who constructed it over 2 separate sessions spanning about 6 months in total. Joining him again on this album are multi faceted vocalist t.k bollinger, vocalist and mixer leith carnie, with random sound contributions by axiam and adamor ziltch and guitarist chris a.c.
Vis was also honoured to have Tasmanian legend, Paul Weedon grace the recording as a guest guitarist & vocalist. Another welcome addition on this recording came from Izedis of insane U.S noise merchants Enbilulugugal who contributed vocal extremities on a number of tracks.
Rejoining the fold, after having contributed to the first 2 albums, are c.w (guitars, spoken word) & aldhamme (vocals) both formally of the mighty Australia Black Metal band Erebus Enthroned. Finally Vis Ortis' cousin from the U.K Swift makes brief noise guitar appearances on a few tracks.
The album was mastered by Greg Chandler (ESOTERIC) at Priory Studios, U.K. and will be released by Aesthetic Death in 2017.
Track-listing:
Mekigah – Autexousious CD (ADCD 043)
1- Eroding Will
2- Autexousious
3- Fooled Blood
4- Zmatek
5- Diminished Responsibility
6- The Infinite Never
7- A Vast Abyss
8- Backpfeifengesicht
9- Rejection Nostalgia