Today, extreme metal mavericks MEAN MESSIAH stream the entirety of their highly anticipated second album, Divine Technology, at heavily trafficked web-portal NoCleanSinging.com. Set for international release on May 5th via Slovak Metal Army, hear Mean Messiah's Divine Technology in its entirety exclusively HERE.
MEAN MESSIAH is a band from Czech Republic, originally just a one-man project, formed by the talented multi-instrumentalist and producer Dan Friml, formerly of legendary bands Sebastian and Apostasy and various projects across genres. Dan is an acclaimed music producer and sound & mixing engineer, working with many high-profile Czech bands like TORTHARRY, FLESHLESS, FINAL FLAG, and many more.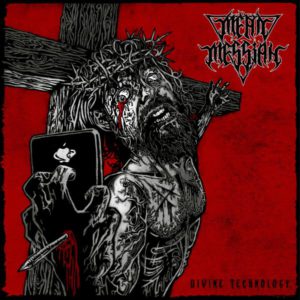 Dan recorded Mean Messiah's debut album himself in his recording studio, and at a time of release, he started looking for suitable bandmates because he really wanted to present MEAN MESSIAH live. After several months of searching and rehearsing, the lineup was complete and the band started to play gigs in April 2014 with very positive feedback from the public because of the group's spontaneity, forcibility, and instrumental maturity of all members.
On September 1st, 2015, the video-clip "The Game" (from the debut album, Hell) had its premiere, and within only 24 hours, it had more than 1000 views. On the 20th of October of the same year, MEAN MESSIAH became a "hot spot of the week" on the Bandzone.cz server. The band then played the biggest festivals in Czech Republic and Slovakia: Masters Of Rock, Czech Death Fest, Agressive Fest, Basinfirefest, Gothoom, and Dead End just to name a few.
In the meantime, Mean Messiah worked on their second album. To fill in a gap between the albums, they released the Let Us Pray EP in August 2016, and the title track (accompanied by the video) was a huge success, spending a whole four weeks on the fist spot of the charts on TV REBEL, the biggest Czech rock TV. In January 2017, Hell is re-released worldwide by Polish label Via Nocturna with updated cover and a bonus track.
The new album Divine Technology marks a natural step forward forMEAN MESSIAH, and even before it was finished, it drew the attention of several labels that heard the unfinished and raw mixes. Now, Slovak Metal Army shall release Divine Technology on May 5th.
https://www.slovakmetalarmy.sk/