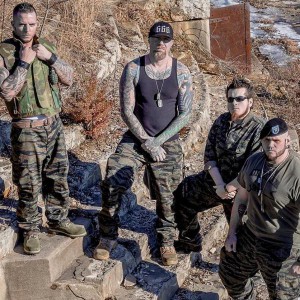 American metal band Mass Punishment s conception began after Chris Milos honorable discharge from the United States Army after crossing the Kuwait/Iraq international border with the 3rd Infantry Division for Operation Iraqi Freedom. Upon wandering desolate Baghdad and witnessing firsthand the horror and atrocities of war, Chris returned home with something to say. Using combat as the platform for his music, he started writing the heavy riffs and lyrics to set the stage and bring his message to life.
Chris was soon joined by drummer Brian Donat, a veteran of the Drum Corps who had qualified to compete in the World s Fastest Drummer competition. The frontman position was bestowed upon powerhouse Erick Laurino, with a voice so scorching that it will sear through your flesh. Soon after came bassist Scott Ferguson whose vigorous stage presence is only fortified by his precision and power as the bass gunner.
The band s first full length was released on the patriotic 4th of July 2014. Entitled Proving Grounds Vol. 1, Mass Punishment set out to prove their vast skill and bring the heavy. The album was produced by Eric Rachel, who has worked with such metal icons as Skid Row, HATEBREED, DILLINGER ESCAPE PLAN, GOD FORBID, THE BLACK DAHLIA MURDER and many more. The album also features a guest appearance by Symphony X guitarist Michael Romeo, who was recently ranked in Guitar World s 100 Greatest Heavy Metal Guitarists of All Time.
2014 proved a monumental year for Mass Punishment. In the midst of dropping a colossal album and making their mark on the modern thrash scene, they won 1st place in Game Changer World s The Break Contest securing a spot at New Jersey s legendary Skate and Surf Festival. This year alone, the band also shared the stage with GWAR, Decapitated and Unearth.
If these last few months are any indication, MASS PUNISHMENT's message will soon assault the ears and minds of metal fans everywhere.
Band:
Erick Laurino – Lead Vocals
Chris Milos – Guitar, Vocals
Scott Ferguson – Bass
Brian Donat – Drums