Interview: Georgiy Bykov (Homer) – Guitars, Bass, Programming, Ivan Guskov – Vocals
Hello! Why don't we begin by telling our readers about the music proposal of MARE INFINITUM? Could you tell me more about idea to create band?
Georgiy: I don't know exactly when I decided to create my own band. I always was interested in making my own material no matter music or lyrics. I think it would happen some day.)
How would you describe your music?
Georgiy: I would say our music is doom-death metal in general. Also we have sludge and progressive influences in our music.
Ivan: Frank Zappa said once, that writing about music it's like dancing about architecture. 🙂
But if you want my opinion about our tags – we're playing progressive funeral doom-death metal.
Your second album has recently been released by Solitude Productions, are you happy with the result and the response so far? Are you satisfied with the final product that is "Alien Monolith God" ?
Georgiy: Definitely, we are happy with the result. The record sounds better than our debut album. Our songs became more complex and interesting. As about response we have red numerous good reviews. Most of opinions are positive. Of course there are some fans who didn't understand the album but I think it's something normal because you unable to satisfy everyone.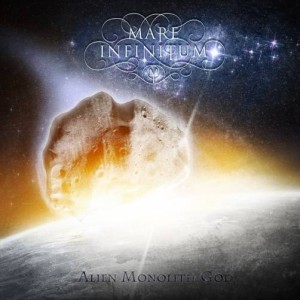 What are your favourite moments on the new album? What has been the best and worst parts of recording and releasing?
Georgiy: There are lot of highlights in the album. For example that moment with tom-tom's in the title track, middle part of "Beholding The Unseen part2", beginning and chorus parts in "Prothetic Consciousness". I like them all because it was result of long working.
Ivan: I have no favorite moments on this record. I like the whole album. I think, that we done good job and there's no weak music moments. I think, that every part of music is on their place. It's the first record in my life, that i totally proud of.
I think, of all your latest albums, "Alien Monolith God" is the best mix between funeral doom metal, NWOBHM and a more contemporary modern sound, do you agree?
Georgiy: There are numerous genres in the album. Heavy metal is one of them. This style with "pedal" note is one of my favorites because it allows you to make simple rhythmic constructions sounding very well.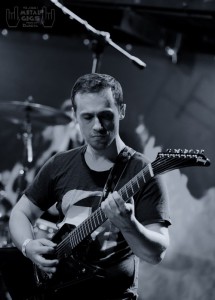 Can you introduce your album concept? Where your inspiration comes from (about music and lyrics) ?
Georgiy: This music for me is all about Universe, space, vacuum, distant stars and time-space. Andrei (the growler) came up with his own vision about solitude, madness, horror and depression. Thus, you can choose your own vision of it)).
How do you imagine the infinity of universe? Do you ever wonder what the apocalypse would be like?
Georgiy: I can't imagine the infinity itself. It's all about something unreal my mind is too simple to aware such things. I suspect apocalypse is the Big Collapse when energy of Dark Matter will squeeze the Universe into single point. But another opportunity of apocalypse exists. If humanity will be so stupid to push the red nuclear buttons leaving only bunch of dust upon the Earth surface. Let's hope it will never happen.
Like a fan of music… Do you prefer records with elements of adventure?
Georgiy: I prefer well done records. They have to be interesting and unusual. No matter which elements were used.
Ivan: I am the big fan of music. Not only heavy music. And i think that unexpected elements makes music much more interesting. I hope that you heard it on our new album. 🙂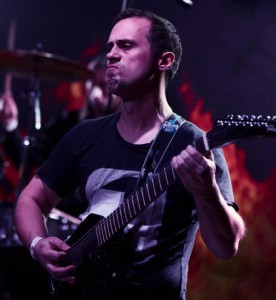 So what's up with the song "The Sun That Harasses My Solitude"? It sounds a bit scary… Is it theme about armageddon?
Ivan: Don't be scared. It is not about armageddon. 🙂 It's just about people, who afraid of sunlight.
"Sea of Infinity" was released in December 2011. Could you tell us about this album?
Georgiy: It was our first serious recording. I have 5 songs written between 2008-2010 years. I tried to make those songs more symphonic, because I like symphonic metal like Therion. Andrei came up with his own ideas concerning vocals and lyrics which were very unusual. So we did cool record I think.
Ivan: For me it was first time when i did record with band which sounds so heavy. Me and Andrei spent one day to record all of the vocals. The same story about second album. One day for male vocals and few hours to record my good friend Olesya Levina, who did all of the female vocal parts on our new records. I like when it's fast. 🙂
What was the music that first excited and inspired you?
Georgiy: There was a lot of music that inspired myself in the past as for example popular music from USSR, music from movies and of course foreign singers and bands like ROXETTE, ABBA, QUEEN, Elvis Presley, PINK FLOYD, Joe Cocker, Sting, Elton John, etc. When I started listen to metal music later I discovered a bunch of great bands like THERION, TIAMAT, DARK TRANQUILLITY, FEAR FACTORY, SONATA ARCTICA, METALLICA, MANOWAR etc. Thus, I have to say I have big background)).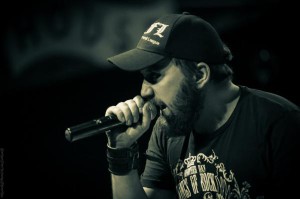 Ivan: I am not a big fan of heavy metal music. I prefer classic rock, progressive rock, retro and stoner rock genres. Also I like blues, jazz, some kind of pop music. I like music which sounds good alive.
Who do you feel is the most talented band in the doom metal scene in Russia?
Georgiy: There are a lot of good doom metal bands in Russia like UNMERCHENARIES, STATION DYSTHYMIA, BELOW THE SUN, COMATOSE VIGIL, ABSTRACT SPIRIT. I advise you listen to them immideatly in case if you didn't do that yet.
Ivan: For me it's COMATOSE VIGIL, ABSTRACT SPIRIT, STATION DYSTHYMIA, WITHOUT GOD and amazing band from Ukraine called STONED JESUS.
What is the metal/alternative scene like in Moscow? Do you have lots of clubs and live music?
Georgiy: There are a lot of venues here in Moscow. We have huge number of gigs every year in each genre of music.
What are your plans for the future?
Georgiy: Our plans are very simple – we will try to make even better songs and make a new record. I dream to play some shows in Europe some day and have a deal with big label.
Ivan: I agree.
Thanks for this interview! Would you like to say anything else to our readers?
Ivan: I hope one day we'll make a European tour and meet everyone of you face to face! Wish all of you happiness and luck! Keep rockin'! Peace and Love!!!
ALL
http://mareinfinitum.bandcamp.com/