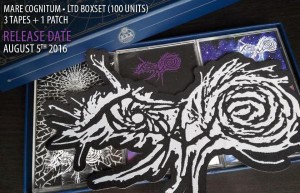 Les Acteurs de l'Ombre Productions announces the exclusive release of MARE COGNITUM's full discography in cassette tape format in a limited edition box set.
Brainchild of Jacob Buczarski, the one-man band based in Lake Forest, California explores the depths of space to deliver a multifaceted form of atmospheric and melodic black metal. MARE COGNITUM takes the listener on a cosmic journey. From one track to the next, the album's breathtaking beauty is illustrated by fast-paced, captivating melodies and cyclopean parts which echo the vastness of space.
Each of the three albums is a chapter in a space odyssey, illustrated by its own sumptuous artwork.
The Mare Cognitum limited edition box set includes The Sea Which Has Become Known, An Extraconscious Lucidity and Phobos Monolith as well as a collector patch and is exclusively available on our store.
Be quick, it's a limited edition (only 100 copies).