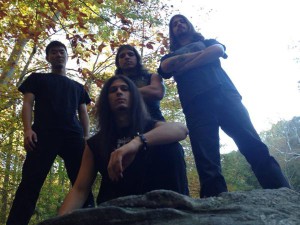 Founded in 2012 by Paul DeSanctis and Eric Dunleavy, accompanied by Dave Guglielmi and Damian DiFrancesco, MALPHAS is a four-piece black metal band. The sound of MALPHAS is generally derived from the Scandinavian metal scene, coming together as a healthy blend of melodic death, black, and power metal with additional touches of prog and jazz.
The band's lyrics are written as a concept story revolving around MALPHAS, the 39th goetic spirit in demonology. MALPHAS serves as the grand president and general of hell; commanding forty legions of demons and appearing before conjurers in the form of a crow.
The Conjuring
The long awaited debut EP The Conjuring from Philadelphia's MALPHAS will finally arrive on Feb 24th 2015. Consisting of 5 tracks which combine black and melodic death metal, The Conjuring is an awesome debut. While the EP may not be 'pure' black metal in the traditional sense, it will definitely appeal to fans of bands suh as IMMORTAL and DIMMU BORGIR.
Tracks:
1. The Conjuring
2. Shards of Truth
3. Legions
4. Visions of the Burning Darkness
5. Heaven's Fall
Credits:
Paul DeSanctis – Vocals/Guitars/Symphonic Programming
Damian DiFrancesco – Guitars/Backing vocals
Dave Guglielmi – Bass
Eric Dunleavy – Drums