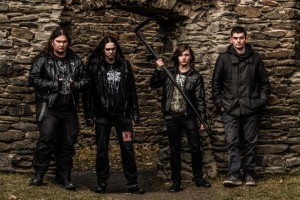 Czech black/death metal band MALLEPHYR released a new song "Still Alive…But Dead" from their upcoming album "Assailing the Holy". It's available to listen to at YouTube (link below). The album was recorded between July and September 2015 in KSV Studios in Prague with the sound engineer Karel "Sheafraidh" Švejnoha, who also mixed and mastered it. The cover art was made by Brazilian artist Rafael Tavares (also Azaghal, Rev 16:8 etc.)
The release date of "Assailing the Holy" is still unknown, because MALLEPHYR are still searching for the label. In case of the interest in any further cooperation, don't hesitate to let them know via e-mail (mark.opatrny@gmail.com). The band would immediately send you more information and materials.
"Assailing the Holy" tracklist:
The Service
Assailing the Holy
Raped by the Morbid Command
Inhaling the Nihilism
Anti-Human
Still Alive… But Dead
Crushing the Paradise, Destroying the World
Hymn to the Darkest Horizon
(The promo photographs and cover artwork can be found in the attachment of this e-mail.)
MALLEPHYR also want to inform about the fifth Diabolical Fest, which will take place in Divadlo Pod Lampou in Pilsen, Czech Republic on 9th September 2016.
Confirmed bands:
INFER (SVK – death metal with black elements),
FEEBLE MINDED (CZE – technical death metal),
MALLEPHYR (CZE – black/death metal),
ERRANTES (CZE – black/death metal).
Price information and other details will be announced in the near future.